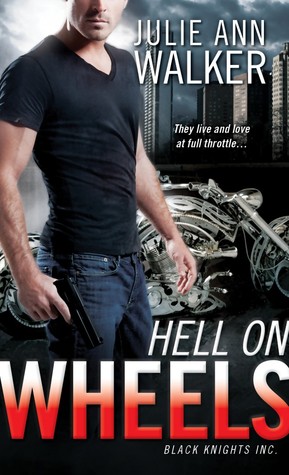 Title: Black Knight Box Set :Hell on Wheels, In Rides Trouble and Rev It Up
Author: Julie Ann Walker
Stars 4 out of 5
Reviews:
I original found this series at my local online library and enjoyed the series but I wasn't really willing to pay six dollars a book so when I found it on sale when the bundle first came out so I bought it for 1.99. The three books are Hell on Wheel, In Rides Trouble and Rev it up three different stories of Alpha Males and the women who love them.
Book 1 Hell On Wheel
is about Nate Weller aka Ghost who works for a black ops group and loses his best friend Grigg on a mission but is unable to tell his family the truth about what Grigg had been doing. Nate tells the family Grigg died working on at the motorcycle shop. Ali, Grigg little sister, and Nate's dreams girl find herself in trouble and the first place she heads is to the motorcycle shop Nate and her brother worked at. This book introduces you to motorcycle riding, tattooed scary looking ex seal, ex-marines and former FBI agents.
Ali is scared that someone is trying to kill her and when Nate discover her brother Grigg secret he will do anything to keep her safe and soon find he is falling in love with her. After one night together he decides he can't live without him but Ali isn't so she sure what she wants.
Synopsis
: He's the bad boy she's always wanted...
Nate "Ghost" Weller has loved Ali Morgan nearly half his life. But he's done something so heinous he's convinced she'll never forgive him if she discovers the truth, so he keeps his feelings and his secrets to himself. Then she blows into town with a mother lode of bad guys on her tail and Nate can't deny she's in serious trouble. Unfortunately, he's the only one who can help her.
She's the good girl he's kept at arm's length...
Ali knows Nate as the most solemn, aloof man on the planet. Sadly, he's also the sexiest. For years she's avoided him, unable to stomach his dark scowls and brooding silences… especially when she secretly yearns for his touch. Now she must rely on him to save her from the malevolent shadows ghosting her every move. When the bullets explode, so does their passion. But can love really conquer all? Or are some things just too terrible to forgive?
Book 2 In Rides Trouble
give her you a quick gimps of the past why Frank Knight the boss of the black ops group chose Chicago as his head quarters. You also get to know Becky the crack mechanic and owner of the motorcycle shop. From the day Becky met Frank Knight she was head over heels in love with him but at the end of book one Becky decides she needs a changed and heads off with her best friend on a must needed vacation. However they end of getting kidnapped by pirates and the Black Knights come to their rescue the girls and Frank Knight finds he has fallen in love with the young spit fire. They have one night of passion and Frank decides he can't live with out her but she is kidnapped before he can tell her. I personally liked this book the best because lets face it who doesn't love a Becky.
Synopsis
: Rebel with a Cause
Becky "Rebel" Reichert never actually goes looking for trouble. It just has a tendency to find her. Like the day Frank Knight showed up at her door, wanting to use her motorcycle shop as a cover for his elite special ops team. But Becky prides herself on being able to hang with the big boys-she can weld, drive, and shoot just as well as any of them.
Man with a Mission
Munitions, missiles, and mayhem are Frank's way of life. The last thing the ex-SEAL wants is for one brash blonde to come within fifty feet of anything that goes boom. Yet it's just his rotten luck when she ends up in a hostage situation at sea. Come hell or high water, he will get her back-whether she says she needs him or not.
Book 3 Rev It up
Jake Sommer aka Snake comes to join the Knight as well as tries to convince Michelle Carter aka Michelle Knight that she is still in love with him. This book bounces you between the past and present and we see why Michelle made the decisions that changed the course of both their lives. I can't really tell you anymore because it will give away big spoilers. I can say he needs one night with you to make her remember why she loved him. Again with the "One Night Of Passion."
Synopsis
: He's the heartbreaker she left behind...
He Never Misses a Target
Jake "the Snake" Sommers earned his SEAL code name by striking quickly and quietly—and with lethal force. That's also how he broke Michelle Carter's heart. It was the only way to keep her safe—from himself. Four long years later, Jake is determined to get a second chance. But to steal back into Michelle's loving arms, Jake is going to have to prove he can take things slow. Real slow...
She Aims to Make Him Beg
Michelle Carter has never forgiven Jake for being so cliché as to "love her and leave her." But when her brother, head of the Black Knights elite ops agency, ticks off the wrong mobster, she must do the unimaginable: place her life in Jake's hands. No matter what they call him, this man is far from cold-blooded. And once he's wrapped around her heart, he'll never let her go...
This is why I gave this book 4 out of 5 stars because almost every single book has the same theme in one way or another Alpha Male who doesn't want to fall in love and a woman who is willing to have one night with them because they have to sleep with the guys. They have sex something happens to the woman and bam the Alpha males realizes that he is in love with her and has to save her life. Now do not get me wrong each is its own story but at the same time I also felt like I was reading the same story over and over again.
The series has some great action scenes that are all well written and the romance\sex is hot and heavy but I could do with a little change in the series.
Thanks Heidi for this review -
Author Information:
Julie Ann Walker is the New York Times and USA Today bestselling author of award-winning romantic suspense. She has won the Book Buyers Best Award, been nominated for the National Readers Choice Award, the Australian Romance Reader Awards, and the Romance Writers of America's prestigious RITA award. Her latest release was named a Top Ten Romance of 2014 by Booklist. Her books have been described as "alpha, edgy, and downright hot." Most days you can find her on her bicycle along the lake shore in Chicago or blasting away at her keyboard, trying to wrangle her capricious imagination into submission.
Be sure to sign up for Julie's occasional newsletter at: http://julieannwalker.com
To learn more about Julie, follow her on Facebook: www.facebook.com/jawalkerauthor and/or Twitter: @JAWalkerAuthor.
Black Knights Inc. Reading Order:
#1 HELL ON WHEELS (Ghost and Ali)
#2 IN RIDES TROUBLE (Boss and Becky)
#3 REV IT UP (Jake and Michelle)
#4 THRILL RIDE (Rock and Vanessa)
#5 BORN WILD (Wild Bill and Eve)
#6 HELL FOR LEATHER (Mac and Delilah)
#7 FULL THROTTLE (Steady and Abby) Coming December 2014