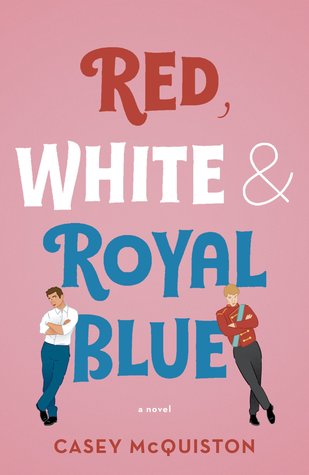 Title: Red, White & Royal Blue
Author: Casey McQuiston
Stars: 2 1\2 stars
Review:
Romance Comedy I find are either a hit or miss. This story is a romance between English Royal and American Political Prince. The characters are what readers expect from LGBT stories right now and the political climate. The author uses this book as her platform taking away from the story readers would enjoy. The writing is what readers expect from this genre with sassy characters and snarky attitudes.
Thank you to Netgalley ad the publisher Martin Griffin for the advance copy of Casey McQuiston Red, White and Royal Blue
Synopsis:
A big-hearted romantic comedy in which First Son Alex falls in love with Prince Henry of Wales after an incident of international proportions forces them to pretend to be best friends...

First Son Alex Claremont-Diaz is the closest thing to a prince this side of the Atlantic. With his intrepid sister and the Veep's genius granddaughter, they're the White House Trio, a beautiful millennial marketing strategy for his mother, President Ellen Claremont. International socialite duties do have downsides—namely, when photos of a confrontation with his longtime nemesis Prince Henry at a royal wedding leak to the tabloids and threaten American/British relations.

The plan for damage control: staging a fake friendship between the First Son and the Prince. Alex is busy enough handling his mother's bloodthirsty opponents and his own political ambitions without an uptight royal slowing him down. But beneath Henry's Prince Charming veneer, there's a soft-hearted eccentric with a dry sense of humor and more than one ghost haunting him.

As President Claremont kicks off her reelection bid, Alex finds himself hurtling into a secret relationship with Henry that could derail the campaign and upend two nations. And Henry throws everything into question for Alex, an impulsive, charming guy who thought he knew everything: What is worth the sacrifice? How do you do all the good you can do? And, most importantly, how will history remember you?
Expected publication: May 14th 2019 by St. Martin's Griffin
About The Author:
Casey McQuiston grew up in the swamps of Southern Louisiana, where she cultivated an abiding love for honey butter biscuits and stories with big, beating hearts. She studied journalism and worked in magazine publishing for years before returning to her first love: joyous, offbeat romantic comedies and escapist fiction. She now lives in the mountains of Fort Collins, Colorado, with a collection of caftans and her poodle mix, Pepper.