Title: Lord of Vice (Rogues to Riches #6)
Author: Erica Ridley
Stars: 4
Review:
In this book Miss Bryony Grenville, the youngest and most mathematical and financial astute of the Grenville clan, meets her match in Maxwell Gideon, owner of the infamous gambling parlor, The Cloven Hoof. He wants to buy the building where his gambling parlor is located, but is unaware who the owner is, and that they are also his secret partner in the business. His secret partner becomes suspicious when he offers her double what was initially paid and determines to secretly examine the books to ensure all is above board. After being caught sparks begin to fly between this unlikely duo. Perhaps the hoyden has found her match in this untitled but true gentleman?
I have rated this book 4 stars.
I received an ARC from Netgalley for my unbiased opinion.
Thank you Frank for your Review
Synopsis:
Vice merchant Maxwell Gideon is wickedly handsome, sinfully arrogant, and devilishly ruthless. Rumor has it, his gaming hell has the power to steal souls and grant miracles. Truth is, Max only owns half of The Cloven Hoof. He'd buy out his silent partner if he knew the man's identity. But it's hard to focus on business matters when a fallen angel tumbles right into one's lap…
Miss Bryony Grenville has a well-earned reputation as an unrepentant hoyden. But even the gossipiest of the pinch-faced matrons ruling High Society could never imagine the daughter of a baronet secretly financing the ton's most infamous gambling parlor. Its maddening, sexy proprietor doesn't suspect a thing… and two can play at temptation!
Kindle Edition

,

243 pages
Published August 31st 2018 by WebMotion
About The Author: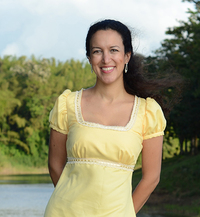 Erica Ridley is a
USA Today
and
New York Times
best-selling author of historical romance novels.
In her new
Rogues to Riches
historical romance series, sigh-worthy Regency rogues sweep strong-willed young ladies into whirlwind romances.
Fan-favorite
Dukes of War
features charming peers and dashing war heroes who return from battle only to be thrust into the splendor and madness of Regency England.
When not reading or writing romances, Erica can be found riding camels in Africa, zip-lining through rainforests in Costa Rica, or getting hopelessly lost in the mid
dle of Budapest.