Title: Her Last Move
Author: John Marrs
Stars: 4 stars
Review:
This is the first book I have read my John Marrs and I couldn't put it down. The characters comes to life as readers find hunting a man who is trying to

right a set of perceived wrongs or as readers will discover and eye or an eye, punishment fits the crime and whatever else you can think of to describe this killer. He focuses only on the killing as a job. Te different characters are set up in a way that no one is a waste of space.
Readers could define this as a
police procedural
mixed with a thriller. Readers do not start this book unless you plan o finish reading it in one sitting because you will not walk away from this story that has twist and moments of sadness as the story comes to an end.
Thank you to Netgalley and the publisher
Thomas & Mercer
for the advance copy of John Marrs Her Last Move
This is a can't miss book and can't miss author! I cam going to find his other books and start reading them as well
Synopsis:
He hides in the shadows, waiting for the perfect moment. Each kill is calculated, planned and executed like clockwork.
Struggling to balance her personal and professional life, young DS Becca Vincent has landed the biggest case of her career—and she knows that it will make or break her. But she can't catch the culprit alone. Together with facial recognition expert Joe Russell, she strives to get a lead on the elusive murderer, who is always one step ahead of them.
Time is not on their side. The body count is rising, and the attacks are striking closer and closer to home. Can Becca and Joe uncover the connection between the murders before the killer strikes the last name from his list?
Expected publication: November 8th 2018 by Thomas & Mercer
About The Author: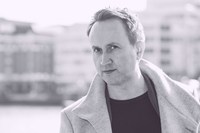 John Marrs is the author of The One, The Good Samaritan, When You Disappeared, and Welcome to Wherever You Are.
A freelance journalist based in London, England, he has spent the past twenty years interviewing celebrities from the world of television, film and music for national newspapers and magazines.
He has written for publications including the Guardian's Guide and Guardian Online, Total Film, Huffington Post, Empire, Q, GT, the Independent, S Magazine and Company.