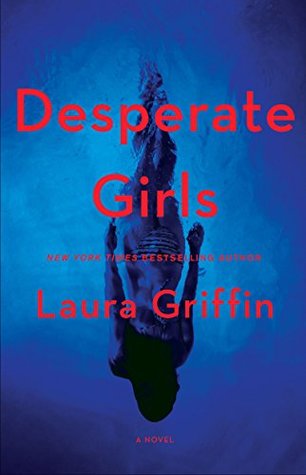 Title: Desperate Girls (Wolfe Security #1)
Author: Laura Griffin
Stars: 4 1/2 stars
Review:
I have read many book by Laura Griffin and while each one if different and unique she has the ability bring readers into her world of action, romance, mystery and suspense. The characters are human with their abilities to bring their lives front and center where readers began to care about what happens to them.
Desperate Girls is a mix of legal dialogue and police procedural that readers will drown in but than the action starts to pick up once again keeping readers hooked needing to know who and why.
The story is told from different points of view which doesn't pull away from the story and only adds to the mystery and action that will pack a punch. Filling readers of suspense with what they have been missing and romance readers enough to keep them wanting more.
Readers will want to yell at Brynn Holloran several times in the book trust me I did.
The lack of emotions from the male lead characters don't detract from the book but readers might have a hard time connecting with him. This might sound funny but this story I think would be a solid 5 if there had been a little humor added into the story.
The story has a large cast of characters that are introduced and the author did a great job of keeping everyone in a line and I can't wait to see where this series goes from here.
Thank you to Netgalley and the publisher

Gallery Books

for the advance copy of Laura Griffin Desperate Girls
Synopsis
:
Defense attorney Brynn Holloran is right at home among cops, criminals, and tough-as-nails prosecutors. With her sharp wit and pointed words, she has a tendency to intimidate, and she likes it that way. She's a force to be reckoned with in the courtroom, but in her personal life, she's a mess.
When a vicious murderer she once helped prosecute resurfaces and starts a killing spree to wipeout those who put him behind bars, one thing becomes clear: Brynn needs to run for her life.
With no help from the police, Brynn is forced to take matters into her own hands, turning to a private security firm for protection. But when Brynn defies advice and gets involved in the investigation, even the former Secret Service agent assigned to protect her may not be able to keep her safe. With every new clue she discovers, Brynn is pulled back into the vortex of a disturbing case from her past.
As the clock ticks down on a manhunt, Brynn's desperate search for the truth unearths long-buried secrets and reignites a killer's fury.
Expected publication: August 7th 2018 by Gallery Books
About The Author:
http://lauragriffin.com/
New York Times and USA Today bestselling author Laura Griffin started her career in journalism before venturing into the world of writing romantic suspense. Her books have won numerous awards, including two RITA Awards (for Scorched and Whisper of Warning) and a Daphne du Maurier Award (Untraceable). Laura currently lives in Austin where she is working on her next book