Title: Lord of Secrets (Rogues to Riches #5)
Author: Erica Ridley
Stars: 4 out of 5
Review:
An historical romance that encompasses an excellent group of people. It has a crossover of characters and events that will be familiar to readers of other stories by this accomplished author. All's well that ends well and this tale ends well for all concerned parties. The hero is untarnished and the heroine is beautiful and compassionate.
I has rated this book 4 stars.
I received an ARC from Netgalley for my unbiased opinion.
Thank you Frank for your review.
Synopsis:
Heath Grenville is the problem-solver for London's elite. Unmask the devious cretin skewering the ton with audacious caricatures? With pleasure. His success should keep the powerful happy. But when his work leads him to a young lady outside his class, surely he won't do anything so scandalous as to fall in love...

By day, Miss Eleanora Winfield is a proper, unremarkable paid companion. By night, Nora's skillful hands sketch the infamous penny caricatures rocking high society. Nora desperately needs the money…and her anonymity. But how can she keep them both, when she's fallen for the one man whose livelihood and reputation requires him to expose her?
About The Author: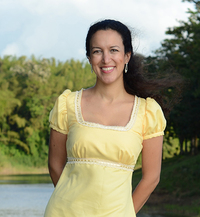 Erica Ridley is a
USA Today
and
New York Times
best-selling author of historical romance novels.
In her new
Rogues to Riches
historical romance series, sigh-worthy Regency rogues sweep strong-willed young ladies into whirlwind romances.
Fan-favorite
Dukes of War
features charming peers and dashing war heroes who return from battle only to be thrust into the splendor and madness of Regency England.
When not reading or writing romances, Erica can be found riding camels in Africa, zip-lining through rainforests in Costa Rica, or getting hopelessly lost in the middle of Budapest.