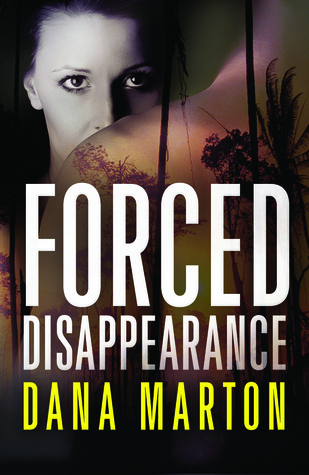 Title:
Forced Disappearance
Review:
Glenn Danning, successful business owner and brainiac, is kidnapped in Venezuela while on "vacation". His family is concerned and calls for the help of the US government.
Miranda Soto is given her first assignment at Civilian Personal Recovery Unit to bring home the body of Glenn Danning after he had been reported missing for four months. What Miranda didn't tell her boss was - that this would be personal because Glenn Danning was her first love while she was at MIT. Glenn and Miranda were to brainacs that love to do scientific experiments when it came to the human body or in other words they discovered sex for the first time with each other. 10 years has passed since the last time they saw each other and sparks fly as they struggle to escape Venezuela.
Dana Marton created a well crafted story that moved along giving the reader enough information to keep them reading wanting to see what happens. The book is written from both Miranda and Glenn's point of views so you are in both characters heads though out the book and to my surprise I wasn't lost while reading the book.
I'm not sure the author did this on purpose but it was pretty obvious who was the villain in the story and I was pretty sure the reason as well. I have to admit sometimes I did feel like we were turning our wheels for a chapter but then again the author put away action and focused solely on character build up.
The end felt a little rushed as if the author needed to keep the book under a certain word count.
Advance Copy from Negalley
Thanks to Heidi for this review
Published: Expected publication: November 18th 2014 by Montlake Romance
Quick Review:
5 out of 5 stars
Why I Read this Title:
ARC sent by Netgallery
Synopsis:
A gripping, fast-paced novel of romantic suspense from New York Times and USA Today bestselling author Dana Marton.
When wealthy American businessman Glenn Danning goes missing in Venezuela, investigator Miranda Soto volunteers to track him down. It's her first assignment for the Civilian Personnel Recovery Unit, but this mission is about more than salvaging the remnants of her shattered military career. Glenn was Miranda's best friend and first lover, and she'll do anything to save him from danger…especially since she just lost everything that mattered to her.
Glenn barely survived being kidnapped and tortured as a suspected spy, but the shock of seeing Miranda again gives him a new lease on life. Their still-simmering attraction grows hotter as the couple races through the treacherous jungle. Determined to reach safe ground, they must stay alive long enough to stop the terrifying enemy who still hunts Glenn. And even if they survive, Miranda's dark past could jeopardize their future together…
Dana Marton writes fast-paced action-adventure romances that take her readers all over the globe. She is a Rita Award finalist and the winner of the Daphne du Maurier Award of Excellence. She loves writing stories of intrigue, filled with dangerous plots that try her tough-as-nails heroes and the special women they fall in love with. Her books have been published in seven languages in eleven countries around the world.