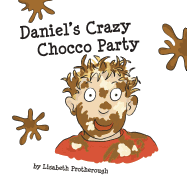 Title:
Daniel's Crazy Chocco Party
Author
: Lisabeth Protherough
Review
: Well I love Chocolate also but I am not sure I would be happy to have my child covered in chocolate and sticky on the way home from a Crazy Chocco Party – Maybe the party leader needs a portable shower so the kids so home wet but not sticky –
My daughter thought this party sounded like an amazing time that she would like to participate in – as we were reading and the part about the party being awesome she completely agreed that it did sound AWESOME!!! She wants to be a chocco girl that is for sure.
This is a CUTE BOOK that sounds delicious and sticky – my kids would love this party type!!
Published:
Published July 14th 2014 by Hearts and Minds Global Limited
Quick Review
: 5 out of 5 stars
Why I Read this Title
: Sent for an honest review
Synopsis:
Daniel is a little boy about to have his 6th birthday party. Join in the fun with him, share his love of chocolate and experience his chocolaty adventure. This lovingly crafted children's picture book, with its slight anarchic twist, is sure to be a hit with chocolate lovers of ALL ages.
I received one or more of the products mentioned above for free using
Tomoson.com
. Regardless, I only recommend products or services I use personally and believe will be good for my readers.