Title: Demons Lie (A Girls Guide To Witchcraft And Demon Hunting #1)
Author: Sherry D. Ficklin
Stars: 4 stars out of 5
Review:
Starting with personal item I am not a huge fan of YA novel I find them cheese, overly predictable, and down right whine at times. Throw in the typical witch and demon hunting and I was ready to close the book and call it your typical YA novel. There is romance do not get me wrong but the author knew what she was doing and I was impressed.
Sherry D. Ficklin was able to bring High school life into a book with the emotions we all remember mix in witchs, demons and everything else and your find a really good YA novel that is emotional at times, heart breaking as well as down right action packed. This is one adventures readers of YA novels are not going to want to miss.
Thank you to Netgalley and the publisher for the advance copy of Sherry D. Ficklin Demons Lie.
Stop whatever you do and pick up this book because this is a series you are going to want to follow.
I want to add the Cover is stunning.
Synopsis:
Rule #1 Demons Lie
Orphaned by an unspeakable evil, Aria Dupree is the last of her line. A powerful witch tasked with guarding the boundaries between our world and the world of demons who prey on humankind, Aria has gone rogue. Now she's out to find and destroy every single gateway into our world and kill every demon that she can find — including the one who murdered her mother.
But, as it turns out, hunting is the easy part; it's graduating high school that might kill her. Red Prairie Texas isn't just another stop on her demon hunting world tour and an unlikely alliance might be exactly what she needs to keep from becoming a slave to the very darkness she's been fighting against.
Because the devil is coming down to Texas — and only Aria can keep all hell from breaking loose.
Expected publication: October 31st 2018 by Sherry Ficklin
About The Author: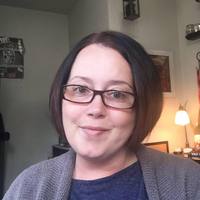 Sherry is the author of over a dozen novels for teens and young adults including the best selling Stolen Empire series. She can often be found browsing her local bookstore with a large white hot chocolate in one hand and a towering stack of books in the other. That is, unless she's on deadline at which time she, like the Loch Ness monster, is only seen in
blurry
photographs.
Sherry also writes contemporary romance under the pen name SJ Noble.