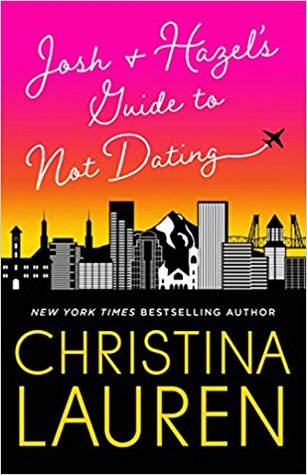 Title: Josh and Hazel's Guide to Not Dating
Author: Christina Lauren
Stars: 4 stars
Review:
This is a book that will keep you riveted with interest or completely turn you off if you fall in the bit of a prude category. It is tale told by both parties, in separate chapters, from their point of view. It goes from an accidental college encounter to becoming friends much later. He is straight laced and she is a very open and spouts forth what she's thinking, and acts, without considering the consequences. They become friends who try setting up each other on very bad double dates untill they become friends with benefits. But all is well that ends well.
I have rated this book 4 stars.
I received an ARC from Netgalley for my unbiased review.
Synopsis:
Hazel Camille Bradford knows she's a lot to take—and frankly, most men aren't up to the challenge. If her army of pets and thrill for the absurd don't send them running, her lack of filter means she'll say exactly the wrong thing in a delicate moment. Their loss. She's a good soul in search of honest fun.

Josh Im has known Hazel since college, where her zany playfulness proved completely incompatible with his mellow restraint. From the first night they met—when she gracelessly threw up on his shoes—to when she sent him an unintelligible email while in a post-surgical haze, Josh has always thought of Hazel more as a spectacle than a peer. But now, ten years later, after a cheating girlfriend has turned his life upside down, going out with Hazel is a breath of fresh air.

Not that Josh and Hazel date. At least, not each other. Because setting each other up on progressively terrible double blind dates means there's nothing between them...right?
Expected publication: September 4th 2018 by Gallery Books
About The Author:
Christina Lauren is the combined pen name of long-time writing partners/besties/soulmates/brain-twins Christina Hobbs and Lauren Billings. The coauthor duo writes both Young Adult and Adult Fiction, and together has produced fourteen
New York Times
bestselling novels. Their books have been translated into 30+ languages. (Some of these books have kissing. Some of these books have A LOT of kissing.)
We don't respond to private messages here, so please contact us via twitter (@seeCwrite for Christina and @LolaShoes for Lauren) or our site. Thank you!!