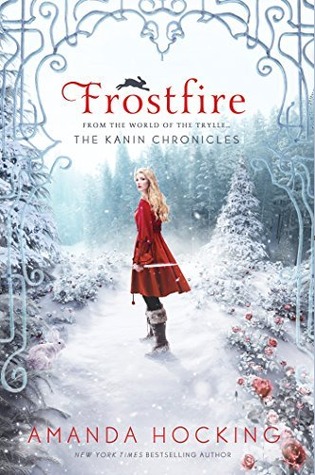 Title: Frostfire
Author: Amanda Hocking
Review: Well this is a good book about characters we already have read about yet just a bit different - Bryn is a sweet girl who is fighting to be strong and prove that she is as strong as anyone else - she fights her attraction to Ridley and I enjoyed the way these two deal and act around one- another fun little romance circle of deep looks - fluttering hearts and deep breaths or no breathing at all. I am sure as the books continue we will get more and more information about the characters that are touching Bryn's life. Love her family and the fight she feels she is in everyday to prove herself.
The characters are interesting and the way the Kanin treat their people and their money situation make you think about how that would work. Interesting group and what a job she has - protecting those who treat you like less of a person then they are -
I like this author and have already ordered the next book since I just finished this book and look forward to the next one -

Amanda Hocking is a good story teller and I enjoy reading her books - she is quite talented and weaving a tale is what she is best at - a tale with a touch of romance and cliff hangers here and there to keep you turning the page -

A book worth picking up - Amanda is very good at her craft.


Synopsis
:
Bryn Aven is an outcast among the Kanin, the most powerful of the troll tribes.

Set apart by her heritage and her past, Bryn is a tracker who's determined to become a respected part of her world. She has just one goal: become a member of the elite King's Guard to protect the royal family. She's not going to let anything stand in her way, not even a forbidden romance with her boss Ridley Dresden.

But all her plans for the future are put on hold when Konstantin– a fallen hero she once loved – begins kidnapping changelings. Bryn is sent in to help stop him, but will she lose her heart in the process?
Published January 6th 2015 by St. Martin's Griffin
Author Information: Amanda Hocking is a lifelong Minnesotan obsessed with Batman and Jim Henson. In between watching cooking shows, taking care of her menagerie of pets, and drinking too much Red Bull Zero, she writes young adult urban fantasy and paranormal romance.
Her New York Times best-selling series the Trylle Trilogy has been optioned for films. She has published fifteen novels, including the Hollows and the Watersong series. Frostfire - the first book in her newest trilogy, the Kanin Chronicles - is out now, and the second book - Ice Kissed - will be May 5, 2015.
For more info about her and her books, here are some other places to check out and ways to contact her:
Facebook: www.facebook.com/amandahockingfans
Pinterest: www.pinterest.com/aehocking/
Wattpad: www.wattpad.com/AmandaHocking
Email: hockingbooks@hotmail.com
Tumblr: amandahocking.tumblr.com/
Website: www.worldofamandahocking.com