Title: One Night of Passion (Wicked Dukes Club #3)
Author: Erica Ridley

Stars: 4
Review:
A historical romance where our heroine has but one objective, which is to remain single, until she reaches her 25th birthday. She is to come into a trust, at that age, and intends to embark on a life of adventure. Enter our hero into the scene. He is a plain Mister, who is liked by everyone, and determined to find a true love match. When the two engage with each other sparks begin to fly. The question is whether or not he can convince her to risk all to be his beloved wife. An enjoyable story from beginning to end.
I have rated this book 4 stars.
I received an ARC from Netgalley for my unbiased review.
Thank you Frank for your Reviews
Synopsis:
Lifelong romantic Thaddeus Middleton is on the hunt for a wife. He hopes to find a woman more attracted to
him
than to money. Instead, he finds himself drawn to a spitfire who isn't interested in him at all! At least, that's what she says when she's not kissing him beneath the stars...
Miss Priscilla Weatherby will inherit a fortune… provided she remains unwed and scandal-free. Easy enough, until she meets a man more dangerous than haughty lords and heartless rakes. Thad is a sweet, sexy delight, whose passionate embrace will ruin everything—including her! She'll sacrifice anything for independence. Even love
Kindle Edition

,

200 pages
Published May 14th 2019 by WebMotion
About The Author: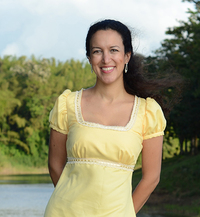 Erica Ridley is a
New York Times
and
USA Today
best-selling author of historical romance novels.
In the new
12 Dukes of Christmas
series, enjoy witty, heartwarming Regency romps nestled in a picturesque snow-covered village. After all, nothing heats up a winter night quite like finding oneself in the arms of a duke!
Her two most popular series, the
Dukes of War
and
Rogues to Riches
, feature roguish peers and dashing war heroes who find love amongst the splendor and madness of Regency England.
When not reading or writing romances, Erica can be found riding camels in Africa, zip-lining through rainforests in Costa Rica, or getting hopelessly lost in the middle of Budapest.