Title: Wrath of the Goddess (Goddess with a Blade #5)
Author: Lauren Dane
Stars: 4
Review:
Starting at book 5 in a sires is never a good idea and I knew that when I requested Wrath of the Goddess. Lauren Dane is able to bring reads up to date quickly and while I was lost it has nothing to do with the book or the authors ability to bring a wonderful story and cast of characters to life. It has everything to do with a reader starting out of order.
Paranormal Romance isn't something I read often but when I read about a author who not only creates memorable characters as well as a balanced story of romance, action, emotions. I couldn't help but grab a copy the second I found one on Netgalley.
The story is fast paced, readers will connect with the passion Rowan has to protect those she loves. The author creates a world where once again Vampires, Hunters and more are all trying to find a way to have peace. Rowan carries the weight of the world on her shoulders and readers are able to feel her pain, strength and passions.
I plan to buy books 1-4 so I can really enjoy this series and everything to come.
Thank you to Netgalley and the publisher for the advance copy of Lauren Dane Wrath of the Goddess
(PS forgive me for errors in spelling and grammar my kids are home for the summer and live next to me talking my ear off. NO matter where I hide to write reviews they always find me.)
Synopsis:
A wedding day should be one you remember fondly, but for Rowan Summerwaite, the fond memories are swept aside by the brutal murder of one of her dearest friends. She heads back to Las Vegas to track down those responsible for the death and finds there's so much more than a killing. A multilayered conspiracy involving multiple groups of paranormals begins to show itself, and Rowan is on the hunt with her wrath burning from within like holy fire.
About The Author: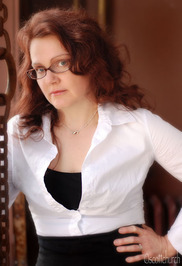 Lauren Dane has been writing stories since she was able to use a pencil, and before that she used to tell them to people. Of course, she still talks nonstop, and through wonderful fate and good fortune, she's now able to share what she writes with others. It's a wonderful life!
The basics: Lauren is a mom, a partner, a best friend and a daughter. Living in the rainy but beautiful Pacific Northwest, she spends her late evenings writing like a fiend when she finally wrestles all of her kids to bed.