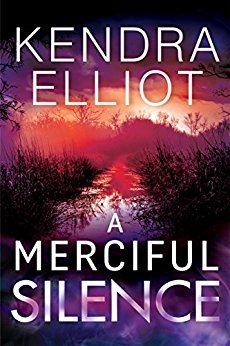 Title: A Merciful Silence (Mercy Kilpatrick #4)
Author: Kendra Elliot
Star: 5
Review:
This is the 4th book in the Mercy Kilpatrick this is not a stand alone novel but a series that readers will want to start at the beginning with.
Kendra Elliot creates an amazing world would Mercy tries to do what she feels is right even though the way she was raised tells her otherwise. The characters stay true to who they are from the beginning of the series which will keep readers wanting more as they series continues. Readers will struggle along with Mercy as she fights to keep herself independent but wanting to rely on the one person she has started to care for outside of her family police chief Truman Daly.
A merciful Silence is a summer must read. It keeps readers immersed in a world they might have never know existed.
Thank you to Netgalley and the Publisher Montlake Romance for the Advance Copy of Kendra Elliot A Merciful Silence.
Must Read Series!
Synopsis:
For Mercy Kilpatrick, returning to rural Oregon has meant coming to terms with her roots. Raised as a prepper, Mercy is now relying on her survivalist instincts to defend her town from the people the law can't reach. But this time, an investigation calling up a dark past for her and police chief Truman Daly may be hitting too close to home.
A rainstorm has uncovered the remains of five people—a reprise of the distinctive slaughter of two families twenty years ago. Except the convicted killer is in prison. Is this the case of a sick copycat, or is the wrong man behind bars? One person might have the answer. The lone survivor of the decades-old crimes has returned to town still claiming that she can't remember a thing about the night she was left for dead. As the search for the truth becomes more dangerous, Mercy fears that the traumatized woman may not have buried her memories at all. She might be keeping them a secret. And there's a price to be paid for revealing them.
Kindle Edition

,

350 pages
Expected publication: June 19th 2018 by Montlake Romance
About The Author:
An Amazon #1 selling author, Kendra Elliot has sold over 4 million books. Get a free insider's guide to Kendra's books at
www.KendraElliot.com
.
She grew up in the lush Pacific Northwest and still lives there with her husband, three daughters, two cats, and a Pomeranian. She's fascinated with forensics, refuses to eat anything green, and dreams of living every day in flip flops.
The BONE SECRETS NOVELS: HIDDEN, CHILLED, BURIED, ALONE, KNOWN and VEILED (a novella).
The CALLAHAN & McLANE novels are a spin-off of the Bone Secrets books. VANISHED, BRIDGED, SPIRALED, and TARGETED.
The MERCY KILPATRICK series, a spin-off of the CALLAHAN & McLANE series, A MERCIFUL DEATH, A MERCIFUL TRUTH, and A MERCIFUL SECRET.
She also writes the Rogue River novella series with author Melinda Leigh.
A four-time Wall Street Journal best selling author, 2014 International Thriller Writers finalist, a three time Daphne Du Maurier winner, and a Romantic Times Reviewers Choice finalist.