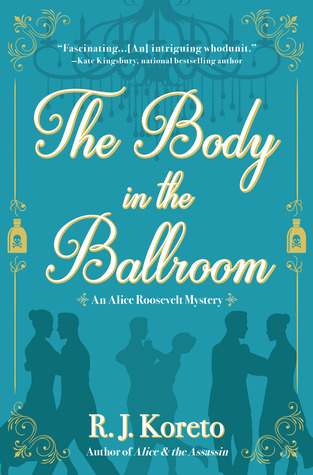 Title: The Body in the Ballroom (Alice Roosevelt Mystery #2)
Author:R.J. Koreto
Star: 5 stars
Review:
A medium paced murder mystery that is full of droll dry wit if the reader is astute and able to separate the wheat from the chaff. It is an art, the in it's self, to be able to pluck forth a real life figure and then build a fictionalized story which will hold the reader's attention. This story held my attention from beginning to end and gave me a lot of chuckles while doing so.
I have rated this book 5 stars.
I received an ARC from Netgalley for my unbiased opinion
Synopsis:
President Teddy Roosevelt's daring daughter, Alice, leaps into action to exonerate a friend accused of poisoning a man just about everyone hated.

Alice Roosevelt, the brilliant, danger-loving daughter of President Theodore Roosevelt, has already risked an assassin's bullet to solve one murder. She never expected to have to sleuth another, but she'd never pass up the opportunity, either. Anything to stave off boredom.

And such an opportunity presents itself when Alice is invited to a lavish ball. The high-society guests are in high spirits as they imbibe the finest wines. But one man, detested by nearly all the partygoers, quaffs a decidedly deadlier cocktail. An African-American mechanic, who also happens to be a good friend of former Rough Rider-turned-Secret Service Agent Joseph St. Clair, is suspected of the murder-by-poison, but Alice is sure he's innocent and is back on the scene to clear his name.

From downtown betting parlors to uptown mansions, Alice and Agent St. Clair uncover forbidden romances and a financial deal that just might change the world. But neither Alice nor her would-be protector may survive the case at hand in The Body in the Ballroom, R. J. Koreto's gripping second Alice Roosevelt mystery.
Expected publication: June 12th 2018 by Crooked Lane Books
About The Author:
R.J. Koreto is the author of the Lady Frances Ffolkes mystery series, set in Edwardian England, and the Alice Roosevelt mystery series, set in turn-of-the-century New York. His short stories have been published in Ellery Queen's Mystery Magazine and Alfred Hitchcock's Mystery Magazine.
In his day job, he works as a business and financial journalist. Over the years, he's been a magazine writer and editor, website manager, PR consultant, book author, and seaman in the U.S. Merchant Marine. Like his heroine, Lady Frances Ffolkes, he's a graduate of Vassar College.
With his wife and daughters, he divides his time between Rockland County, N.Y., and Martha's Vineyard, Mass.