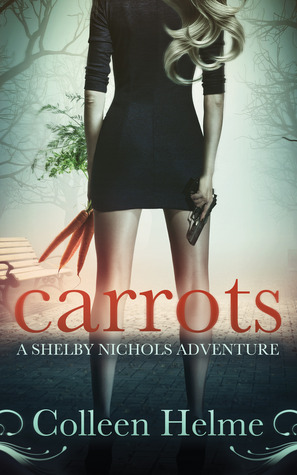 Title: Carrots
Author:
Colleen Helme:
Review: A light humor comedy mystery which was very enjoyable. Shelby Nichols is grazed by a bullet during a bank robbery in a grocery store. The next day she discovers that she can read other peoples minds. This leads to her getting involved with the local mafia boss whom the robber worked for. It involves a murder or two and the theft of some documents which Shelby uses to break from the mafia.
I would rate this book at four stars and would read other offerings by this writer.
I got the book from
kindlebuffet.com
.
Synopsis:
Shelby Nichols is an average woman who is married to the only guy she ever fell for. Her life is organized and predictable, revolving around her husband and two children. All that changes the day she stops at the grocery store for some carrots. As the cashier rings up her purchases, a gunman is busy robbing the bank inside the store. When a customer grabs the robber's mask, he is shot and everyone runs for cover. Everyone except Shelby, who finds herself face to face with the killer. The next thing she knows, she's lying on the floor with a bullet wound to her head. Luckily, the bullet only grazes her scalp, and she doesn't suspect any lasting affects until later, when she suddenly 'hears' what people are thinking. With this uncanny ability, her life takes on a whole new dimension. Her kids think she's bossy and too old to understand them, but that's nothing compared to her husband. He says he loves her, but what is it about the redhead at work that he doesn't want her to know? As if that isn't enough, the gunman knows she can identify him, and he's out to silence her forever. In her fight to stay alive, she is saved from certain death by a handsome hit-man with ties to organized crime. This pulls Shelby even deeper into danger, where knowing someone's thoughts can not only hurt her feelings, but get her killed.
Paperback, Second Edition, 192 pages
Published August 29th 2013 by Createspace (first published February 23rd 2011)
Author Information: As the author of the Shelby Nichols Adventure Series, Colleen is often asked if Shelby Nichols is her alter-ego. "Definitely," she says. "Shelby is the epitome of everything I wish I dared to be." Known for her laugh since she was a kid, Colleen has always tried to find the humor in every situation and continues to enjoy writing about Shelby's adventures. "I love getting Shelby into trouble…I just don't always know how to get her out of it!" Colleen lives in the Rocky Mountains with her family. Besides writing, she loves a good book, biking, hiking, and playing board and card games with family and friends. She loves to connect with readers and admits that fans of the series keep her writing.