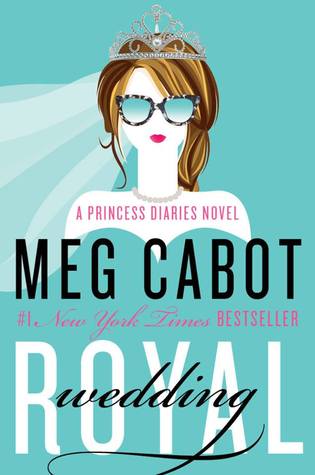 Title: Royal Wedding
Stars 5 out of 5
Review
:
Mia Renaldo is 26 years old living the dream between royal, speaking engagements, running a teen community center and having the most gorgeous boyfriend Micheal what could make Mia life any better? Well Mia Grandmother leaked "fake" wedding plans, someone is trying to force Mia's father off the throne leaving Genovia without a monarch and that is only the beginning.
I have never read Meg Cabot before but I couldn't pass up the chance to read Royal Wedding because what girl doesn't love the princess diary movies.
The book is written in the style of a diary entries, text messages that will crack readers up to Mia Renaldo's Itinerary everything planned to the last detail for the royal wedding.
The cast of characters are brilliantly written with all the heart I fell in love with when I watched the movies.
For those who started these books as tweens will love following Mia as she become a young adult having to deal with a biological father who causes a international incident. Micheal and Mia are the perfect couple who have their ups and downs. "You would think that in the enlightened era in which we live, a single girl could have a boyfriend and a career and also a healthy sex life without getting called names. (55)"
Mia comes off as every girls best friend so as the story moves along you can't hep but feel her pains, and excitement. This book has its laugh out loud moments, moments of remembering true friendships and love.
Royal Wedding is a perfect addition to the Princess Diaries series and I can't wait to start at the beginning and read all the books in order. Also I love the surprise at the end. If you want to know you will just have to read the book for yourself.
Last but not Least - Crazy Ivan's Bachelorette Party from Hell Invitation. This book will have you laughing out loud.
Thank you Heidi for this review -
Synopsis: From the #1 New York Times bestselling author of the Princess Diaries series, comes the very first adult installment, which follows Princess Mia and her Prince Charming as they plan their fairy tale wedding—but a few poisoned apples could turn this happily-ever-after into a royal nightmare.
For Princess Mia, the past five years since college graduation have been a whirlwind of activity, what with living in New York City, running her new teen community center, being madly in love, and attending royal engagements. And speaking of engagements. Mia's gorgeous longtime boyfriend Michael managed to clear both their schedules just long enough for an exotic (and very private) Caribbean island interlude where he popped the question! Of course Mia didn't need to consult her diary to know that her answer was a royal oui.
But now Mia has a scandal of majestic proportions to contend with: Her grandmother's leaked "fake" wedding plans to the press that could cause even normally calm Michael to become a runaway groom. Worse, a scheming politico is trying to force Mia's father from the throne, all because of a royal secret that could leave Genovia without a monarch. Can Mia prove to everyone—especially herself—that she's not only ready to wed, but ready to rule as well?
Paperback, 435 pages
Published June 2nd 2015 by
William Morrow Paperbacks
(first published June 1st 2015)
Author Information: Meg Cabot was born on February 1, 1967, during the Chinese astrological year of the Fire Horse, a notoriously unlucky sign. Fortunately she grew up in Bloomington, Indiana, where few people were aware of the stigma of being a fire horse -- at least until Meg became a teenager, when she flunked freshman Algebra twice, then decided to cut her own bangs. After six years as an undergrad at Indiana University, Meg moved to New York City (in the middle of a sanitation worker strike) to pursue a career as an illustrator, at which she failed miserably, forcing her to turn to her favorite hobby--writing novels--for emotional succor. She worked various jobs to pay the rent, including a decade-long stint as the assistant manager of a 700 bed freshmen dormitory at NYU, a position she still occasionally misses.
She is now the author of nearly fifty books for both adults and teens, selling fifteen million copies worldwide, many of which have been #1 New York Times bestsellers, most notably The Princess Diaries series, which is currently being published in over 38 countries, and was made into two hit movies by Disney. In addition, Meg wrote the Mediator and 1-800-Where-R-You? series (on which the television series, Missing, was based), two All-American Girl books, Teen Idol, Avalon High, How to Be Popular, Pants on Fire, Jinx, a series of novels written entirely in email format (Boy Next Door, Boy Meets Girl, and Every Boy's Got One), a mystery series (Size 12 Is Not Fat/ Size 14 Is Not Fat Either/Big Boned), and a chick-lit series called Queen of Babble.
Meg is now writing a new children's series called Allie Finkle's Rules for Girls. Her new paranormal series, Abandon, debuts in Summer of 2011.
Meg currently divides her time between Key West, Indiana, and New York City with a primary cat (one-eyed Henrietta), various back-up cats, and her husband, who doesn't know he married a fire horse. Please don't tell him.