Title: Apocalypse Taco
Author: Nathan Hale
Stars: 5
Review:
As a mom with readers I am always looking for books my kids will love. My kids are ages K-7th grade and each one has bee reading since they were 4 years old. (I know freaky Right!)
Each child has there own personality but when we are able to find a author or book series my kids all like I buy everything since book.
Nathan Hale looks to be the next author who will be sitting on our 400 children's book shelf.
The story is a fun adventure that children will be able to understand and laugh as Sid, Alex, and Ivan since of the biological e

ngineering

gone crazy. The author creates a fun story that is fast pace and keeps children of all ages and parents engaged until the story ends.
My kids have now read this book almost every night before bed.
Thank you to Netgalley and the publisher Amulet Books for the advance copy of Nathan Hale Apocalypses Taco
Synopsis:
Sid, Axl, and Ivan volunteer to make a late-night fast-food run for the high school theater crew, and when they return, they find themselves. Not in a deep, metaphoric sense: They find copies of themselves onstage. As they look closer, they begin to realize that the world around them isn't quite right. Turns out, when they went to the taco place across town, they actually crossed into an alien dimension that's eerily similar to their world. The aliens have made sinister copies of cars, buildings, and people—and they all want to get Sid, Axl, and Ivan. Now the group will have to use their wits, their truck, and even their windshield scraper to escape! But they may be too late. They may now be copies themselves
Expected publication: March 26th 2019 by Amulet Books
About The Author: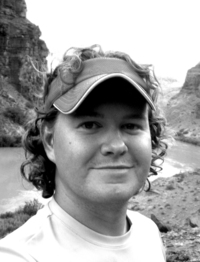 Nathan Hale is the New York Times best-selling author/illustrator of the Hazardous Tales series, as well as many picture books including Yellowbelly and Plum go to School, the Twelve Bots of Christmas and The Devil You Know.
He is the illustrator of the Eisner-nominated graphic novel Rapunzel's Revenge and its sequel, Calamity Jack. He also illustrated Frankenstein: A Monstrous Parody, The Dinosaurs' Night Before Christmas, Animal House and many others.
(He is not the author of Extinction Earth or the other apocalyptic titles listed. That's a different Nathan Hale. If someone with "librarian" status would disambiguate those titles for me, I'd appreciate it.)