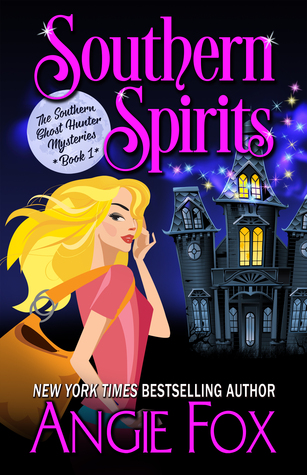 Title: Souther Spirits
Author:Angie Fox
Stars: 4 out of 5
Review:
Although this book is not a genre that I would normally choose to 
read I must confess that I thoroughly enjoyed the story. I was drawn in 
by the brief synopsis that was given with the eBook listing on Amazon. I
 began reading with a jaundice outlook and was slowly drawn into the 
story and the plight of the heroine. It has all of the basic ingredients
 of a light comedic ghost story with a grand finale of a finish. I would
 recommend this book to anyone seeking a light cozy murder mystery ghost
 story.
 
I gave this book a 4 star rating.
 
I obtained this book in Kindle format from Amazon.
Thank you Frank for the Reviews
Synopsis:
When out of work graphic designer Verity Long accidentally traps a ghost on her property, she's saddled with more than a supernatural sidekick—she gains the ability see spirits. It leads to an offer she can't refuse from the town's bad boy, the brother of her ex and the last man she should ever partner with.

Ellis Wyatt is in possession of a stunning historic property haunted by some of Sugarland Tennessee's finest former citizens. Only some of them are growing restless—and destructive. He hires Verity put an end to the disturbances. But soon Verity learns there's more to the mysterious estate than floating specters, secret passageways, and hidden rooms.

There's a modern day mystery afoot, one that hinges on a decades-old murder. Verity isn't above questioning the living, or the dead. But can she discover the truth before the killer finds her?
About The Author: