Title
: Play To Win
Author
: Tiffany Snow
Stars
: 4 out of 5
Review:
The first book in the series had me so excited that I found something fun with just the right amount of romance to the suspense. However by book 3 I really didn't care what happened to Sage she must have broken a mirror and didn't know because she was endless danger. The Sage I met at the beginning of the series isn't the same Sage at the end. I get she went though a lot but I was hoping the author would keep some of the fun she created in the first book.
The Men of the series did change from the first and second book but Ryker changed the most and he ended up being the man I had hoped for from the beginning. It feels like the author decided to throw Sage under the bus with the typical danger and focus on Ryker and how he develops at the end of the series VS Parker and Sage who stay basically the same.
The twist that happens at the end of the book is the only reason I am giving it 4 stars because I didn't see it coming or I didn't want to see it coming.
Everyone gets their HAE which is way better than what happened at the end of Kathleen Turner Series that had several readers upset.
Its the end of a series but nothing I couldn't have lived without. I do plan to read the next series Tiffany Snow writes because I loved her first three Tiffany Snow Series as well as Blank Slate
I loved Blank Slate and wish for more of that than the love triangles.
AC from Netgalley and publisher for my honest review.
Synopsis:
Falling in love with polar-opposite men was an intoxicating ride that nearly ended Sage Reese's life. Now it's time for Sage to decide: Parker, the clean-cut, filthy-rich business magnate . . . or Ryker, the tough-as-nails undercover detective. Her choice? Neither. Because she can't stand the thought of coming between two brothers-in-arms finally trying to repair their friendship.

Yet not everyone feels the same way, including a mysterious woman who's come to Ryker and Parker for help. Sage knows firsthand how hard it is for the two former Marines to resist a damsel in distress. But something just doesn't feel right.

Now there's a danger closing in that only Sage can see, and she intends to do everything she can to protect Parker and Ryker-even at the risk of losing them both.
Mass Market Paperback
,
352 pages
Expected publication: February 23rd 2016 by Forever
About The Author: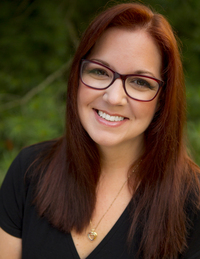 I love to stick with characters over a series of books when I read, which is the same way I write. My first series - THE KATHLEEN TURNER SERIES - includes five books, two companion novels, and features a love triangle. My new series, coming from Montlake Romance December 16, 2014, is the TANGLED IVY TRILOGY, beginning with IN HIS SHADOW.


As for me, I've been reading romance novels since I was way too young to read such things, have an unhealthy obsession for all things Doctor Who, prefer Pepsi to Coke and Absolut to both, think men who drink girly cocktails are wusses, have learned to never stop believing in my beloved St. Louis Cardinals, and can recite the entire scripts of When Harry Met Sally and Apollo 13. George Washington is cool, Bon Jovi still rocks the house, and Bruce Willis is the ultimate alpha-male hero. Most of all, romance never, ever gets old.

Visit my website www.Tiffany-Snow.com for more information and special extras.