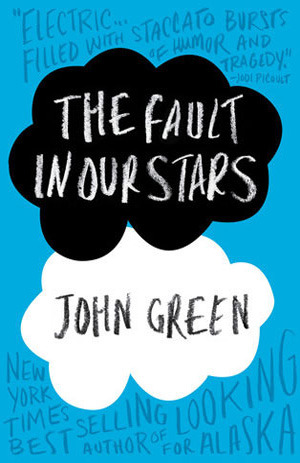 Title:
The Fault in Our Stars
Review:
Issue fixed - sorry about that!!!
I read this book even knowing the subject and I would cry – I don't usually read books I know will be sad, but my 13 year old daughter was reading it and asked me to read it so we could discuss the book. Well I started crying on page 200 and didn't stop for a few days after I finished- I was not able to discuss the book without crying for over a week. The thought of the book makes me tear up still- I will not be seeing the movie.
That said- I have to say that the book is well written and flows well. The story was gripping and real along with sweet and beautiful all at the same time. I loved the relationship between Hazel and Gus, they both knew how important it was to grab on to each day and live it to its fullest. The descriptions of these two drinking champagne made me feel I was with them enjoying the evening, intimacy, food and the view.
The subject is a sad one, but this book is well worth reading even with the tears-sobs actually at one point. Life is short and for some shorter than it should be – cancer is not fair – life is not fair – this book will make you think about how you are living your life and the wasted time you need to take back so you have no regrets at the end – life ends for all of us at sometime – live it now!!!
That is the message I got for this book – if you don't mind tears then read this book.
Quick Review:
5 out 5 stars –tears for sure
Why I Read this Title
:
My daughter was reading the book and asked me to read it also so we could have a book discussion.
Synopsis:
Despite the tumor-shrinking medical miracle that has bought her a few years, Hazel has never been anything but terminal, her final chapter inscribed upon diagnosis. But when a gorgeous plot twist named Augustus Waters suddenly appears at Cancer Kid Support Group, Hazel's story is about to be completely rewritten.
Author Information:
John Green's first novel, Looking for Alaska, won the 2006 Michael L. Printz Award presented by the American Library Association. His second novel, An Abundance of Katherines, was a 2007 Michael L. Printz Award Honor Book and a finalist for the Los Angeles Times Book Prize. His next novel, Paper Towns, is a New York Times bestseller and won the Edgar Allen Poe Award for Best YA Mystery. In January 2012, his most recent novel, The Fault in Our Stars, was met with wide critical acclaim, unprecedented in Green's career. The praise included rave reviews in Time Magazine and The New York Times, on NPR, and from award-winning author Markus Zusak. The book also topped the New York Times Children's Paperback Bestseller list for several weeks. Green has also coauthored a book with David Levithan called Will Grayson, Will Grayson, published in 2010. The film rights for all his books, with the exception of Will Grayson Will Grayson, have been optioned to major Hollywood Studios.
In 2007, John and his brother Hank were the hosts of a popular internet blog, "Brotherhood 2.0," where they discussed their lives, books and current events every day for a year except for weekends and holidays.
John Green also does Mental Floss on TV from time to time– and has a blog here!!!