Title: Torn (Whiskey Sharp #3)
Author: Lauren Dane
Stars: 3 stars
Review:
This is the second series by Lauren Dane I have read. I figured you can't judge an author by one of her many series.
The story starts off with friends who are all finding love. Cora is one of the last of the group but can't seem to find what she is looking for. The story starts off with every girls dreaming meeting their teenage crush. The story falls apart after that because it falls into the typical romance with light but ok banter, sex, sex, drama, sex, drama and that is about it.
The characters are flat, boring and the drama is predictable. The story is easily forgettable leaving readers wondering if it was worth the summer to be read pile.
Thank you to Netgalley and the publisher Harlequin Books for the advance copy of Lauren Dane Torn.
Synopsis:
Sometimes what you find isn't what you were searching for

Beau Petty has been searching his whole life. Searching for a place that fills all the empty spaces in him. Searching for a way to tame the restlessness. Searching for answers to the secret he's never stopped trying to solve. What he wasn't searching for was a woman to claim all of him, but when Cora Silvera walks back into his life, he's ready to search out all the ways he can make her his.

Cora has spent her life as the family nurturer, taking care of others. But now she's ready to pass that job on to someone else. It's time to make some changes and live for herself. It's in that moment that her former teenage crush reappears and the draw and the heat of their instant connection is like nothing either of them has experienced. He craves being around her. She accepts him, dark corners and all.

Beau thinks Cora's had enough drama in her life. He wants to protect her from the secrets of his past, even if it means holding back the last pieces of himself. But Cora is no pushover and she means to claim all those pieces.
Expected publication: June 26th 2018 by Harlequin Books
About The Author: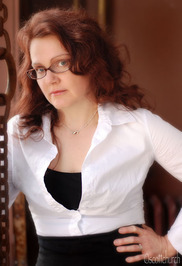 Lauren Dane has been writing stories since she was able to use a pencil, and before that she used to tell them to people. Of course, she still talks nonstop, and through wonderful fate and good fortune, she's now able to share what she writes with others. It's a wonderful life!
The basics: Lauren is a mom, a partner, a best friend and a daughter. Living in the rainy but beautiful Pacific Northwest, she spends her late evenings writing like a fiend when she finally wrestles all of her kids to