Title: Chased (Chase Brothers #3)
Author: Lauren Dane
Stars: 3 1/2 Stars out of 5
Review:
Chased is a series about brothers who find love. This one is about Liv a childhood friend who even dated one of the brothers before falling in love with Mac Chase 6 years younger than her.
The really isn't anything new and I didn't find the characters all that interesting. Even though the story basic girls falls for best friend who happens to date\sleeps with every woman he meets.
I was hoping for humors moments but there were very few. Making the story drag on.
Readers who enjoy the Chase Brother series I'm sure will love this story as well but for this review the story falls flat with unimaginative characters and a story line used one too many times.
Thank you to Netgalley and the publisher Harlequin Carina Press
Synopsis:
Liv Davis had just about given up on her happily ever after. Burned by love more than once, she's beginning to think Mr. Right wasn't in the cards for her. Marc Chase is a confirmed bachelor and lover of women-lots of them. He's determined not to fall head over heels the way his brothers have. Until he kisses Olivia Davis and realizes head over heels may not be such a bad thing after all!
Can Liv open her scarred heart for this younger ladies man? She loves Marc more than she can begin to admit but she's terrified of being rejected again. Marc faces a challenge greater than he's ever faced before. Making a woman believe he's more than just a great bedmate-making her believe he's in it for good. In the end it will all come down to two days in a hotel and a bet. Can they both win?
Warning, this title contains the following: explicit sex, graphic language
Publication

Date July 1 2018

Harlequin Carina Press
01 Jul 2018
About the Author: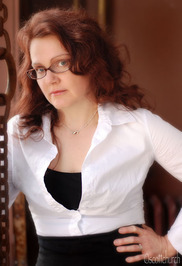 Lauren Dane has been writing stories since she was able to use a pencil, and before that she used to tell them to people. Of course, she still talks nonstop, and through wonderful fate and good fortune, she's now able to share what she writes with others. It's a wonderful life!
The basics: Lauren is a mom, a partner, a best friend and a daughter. Living in the rainy but beautiful Pacific Northwest, she spends her late evenings writing like a fiend when she finally wrestles all of her kids to bed.