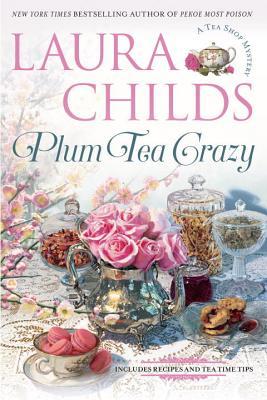 Title: Plum Tea Crazy (A Tea Shop Mystery #19)
Author: Laura Childs
Star: 4 out of 5
Review:
A very cozy mystery set in the beautiful locale of Charleston SC. The author is able to build a word picture of the area that made this reader feel he was there last week and not 40 years ago. The story unfolds quite nicely and will keep the reader engaged. The author gives a hint to solving the mystery if the reader is astute and able to grasp it's value. Overall a clean cut story with minimal violence.
I have given this book a four star rating.
I received an ARC from Netgalley for my unbiased review
Thank you Frank for the review.
Synopsis:
While viewing the harbor's Gaslights and Galleons Parade from the widow's walk of Timothy Neville's Charleston mansion, local banker Carson Lanier seemingly tumbles over a narrow railing, then plunges three stories to his death. But a tragic accident becomes something much more sinister when it's discovered that the victim was first shot with a bolt from a crossbow.
At the request of the mansion owner, Theodosia investigates the tragedy and is soon neck deep in suspects. An almost ex-wife, a coworker, a real estate partner--all had motives for killing the luckless banker, but one resorted to murder to settle accounts.
Expected publication: March 6th 2018 by Berkley Books
About The Author: