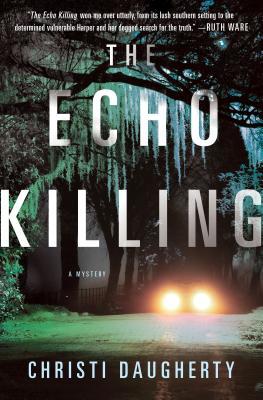 Title: The Echo Killing (Harper McClain #1)
Author: Christi Daugherty
Stars: 4 stars
Review:
This story had me wondering why Harper kept after the guy she was convinced the killer. She never once had me convinced. Many times I wanted to yell that is not the guy!
As the story progressed there were just the right amount off twist and turns to keep reader hooked. The killer will have everyone scratching there heads.
The Characters are developed well enough but I needed something more I could sink my teeth into.
Thank you to netgelley and the publisher for the advance copy
Synopsis:
A city of antebellum architecture, picturesque parks, and cobblestone streets, Savannah moves at a graceful pace. But for Harper McClain, the timeless beauty and culture that distinguishes her home's Southern heritage vanishes during the dark and dangerous nights. She wouldn't have it any other way. Not even finding her mother brutally murdered in their home when she was twelve has made her love Savannah any less.
Her mother's killer was never found, and that unsolved murder left Harper with an obsession that drove her to become one of the best crime reporters in the state of Georgia. She spends her nights with the police, searching for criminals. Her latest investigation takes her to the scene of a homicide where the details are hauntingly familiar: a young girl being led from the scene by a detective, a female victim naked and stabbed multiple times in the kitchen, and no traces of any evidence pointing towards a suspect.
Harper has seen all of this before in her own life. The similarities between the murder of Marie Whitney and her own mother's death lead her to believe they're both victims of the same killer. At last, she has the chance to find the murderer who's eluded justice for fifteen years and make sure another little girl isn't forever haunted by a senseless act of violence―even if it puts Harper in the killer's cross-hairs…
Expected publication: March 13th 2018 by Minotaur Books
About The Author:
As a​ ​​newspaper​ ​reporter, Christi Daugherty first began covering murders at the age of 22. She worked as a journalist for years in cities including Savannah, Baton Rouge, and New Orleans. The Echo Killing is her first crime novel. Find out more and win signed books by visiting her website:
www.ChristiDaugherty.com
. You can also follow Christi on Twitter (@CJ_Daugherty) and Facebook (CJAuthor)