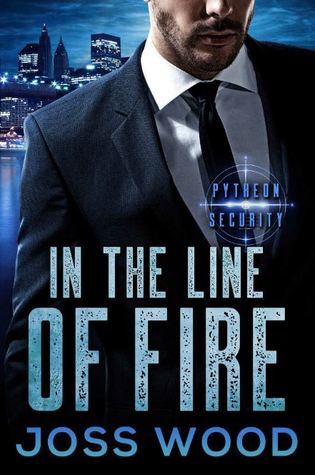 Title: In The Line Of Fire (Pytheon Security #3)
Author: Joss Wood
Stars: 3 1\2 out of 5
Review:
3 1/2 stars out of 5
This can be read in the series or as a stand alone novel.
Author Joss Wood created a series about Pytheon Security agents and friends that fell short of expectations.
Her writing style works is a little odd because the characters answer each other questions many times when I though the characters was having a inner monologue. Many times I was confused who was talking and if the other character heard them. The female character would be having a inner monologue and the mail lead would answer the questions. Let face it no man is that good at reading a woman.
It is straight forward there are no twist or turn readers wont see coming. The story is a fast read just underwhelming and most of the story is set up for the sex in the book leaving everything else behind including character build up.
The author created characters that were so unbelievable but it is what will have readers flocking to her series.
The story isn't anything new but it wasn't poorly written. I will try another book by this author to see if her type of story telling chances or remains the same
Thank you to Netgalley and the Publisher Tule Publishing for the Advance copy of In The Line Of Fire (Pytheon Security #3)
by Joss Wood
Synopsis:
It just got personal…

As the Delta Force legend at Pytheon International, security expert Jett Smith-Jones has run out of leads in his effort to capture criminal mastermind, The Recruiter, the head of a notorious, international human trafficking and recruitment ring. The Recruiter remains one step ahead but when he threatens the principal players at Pytheon, including Dr Samantha Stone, the game is back on. Jett, while valiantly trying to ignore his visceral attraction to the fiery red head, is determined that she have the best protective detail Pytheon can provide. He is the best they have.

PhD Samantha Stone has been tasked to profile The Recruiter's next move as a consultant of the psychology of criminal behavior. Too bad she can't discern her attraction to the hard-eyed Delta Force legend. She avoids men who chase danger, but she can't stop dreaming of falling into Jett's very muscular arms. Unfortunately for Sam, The Recruiter isn't the only criminal wanting a piece of her…

As they tighten the net around The Recruiter, the risk to Sam increases. Jett vows he will keep her safe, but who will protect his heart? And will Jett prove to pose the biggest danger to Sam of all?
February 8th 2018 by Tule Publishing
About The Author:
Joss Wood loves books and travelling— especially to the wild places of Southern Africa. She has domestic skills of a pot plant and drinks far too much coffee.
Joss has written over twenty-five books for the Kiss/ Modern Tempted, Presents and most recently, the Desire line for Harlequin/Mills and Boon. She also writes for Tule Publishing and has had two single title romances published with Penguin/Random House for their Intermix imprint.
In 2013 Joss won the RT Reviewers Choice Award for best Harlequin Kiss. After a career in pro-business lobbying and local economic development, she now writes full time. Joss lives with her husband and their two teenage children in northern KZN. Joss is a member of the RWA (Romance Writers of America) and ROSA (Romance Writers of South Africa.)