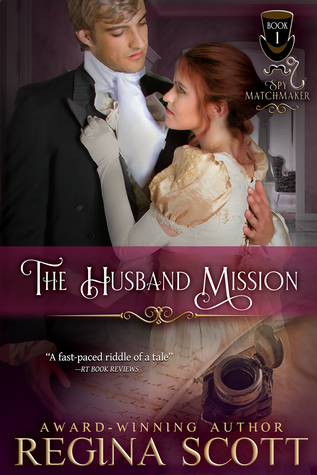 Title:
The Husband Mission
Author: Regina Scott
Stars: 4 out of 5 stars
Review:
A warm, feel good, historical romance. A determined young lady sets out with military precision to capture, or ensnare depending on which side you support, an unaware bride groom for her step sister. However the tides turn when he unexpectedly falls for her and she falls for him. A good tale told by an excellent story teller. As an added bonus there are no sex episodes in the story only a very pleasant read.
I have rated this book 4 stars.
I obtained this book from Amazon in Kindle format.
Synopsis:
Katherine Collins is on a mission. With no means and few prospects, the spirited spinster is financially beholden to her stepsister Constance, who stands to inherit a large fortune--if she marries in the next six weeks. What better than to present Constance with the perfect husband, Alexander Wescott, Lord Borin? After all, Katherine has been spying on the handsome, wealthy viscount, just to make sure he's the man she hopes.
Alex cannot understand why he's under surveillance, but it seems to have something to do with the intriguing Katherine. Rejected for service by England's spymaster and encouraged to set up his nursery instead, he ought to be searching for a wife. But what wife can compare to the excitement of international espionage? Unless, of course, she's up for a little espionage herself.
About The Author:
Regina Scott started writing novels in the third grade. Thankfully for literature as we know it, she didn't actually sell her first novel until she had learned a bit more about writing such as vocabulary, sentence structure, and plot. After numerous short stories and articles in magazines and trade journals, she got serious about her novel writing. The Unflappable Miss Fairchild was her first novel to be published (March 1998).
Besides her novels, Regina Scott has had published three Regency novellas ("The June Bride Conspiracy" in His Blushing Bride, "Sweeter Than Candy" in A Match for Mother, and "A Place by the Fire" in Mistletoe Kittens). Two of her novels, A Dangerous Dalliance and The Twelve Days of Christmas, have been translated into German. A Dangerous Dalliance and The Incomparable Miss Compton have been translated into Italian. Starstruck and Perfection have been translated into Dutch.
Regina Scott and her husband are the parents of two sons. They reside in the Tri-Cities of southeast Washington State and are members of the Church of the Nazarene. Born in 1959 and raised in the Seattle area, Regina Scott is a graduate of the University of Washington. She comes by her writing talent naturally--both her parents are excellent writers in their vocations as teacher and electrical technician. Her mother envisioned the plot for "Sweeter Than Candy," the novella which was written as a tribute to her.
Regina Scott is a devout Christian and a decent fencer; owns a historical, fantasy, and science fiction costume collection that currently takes up over a third of her large closet; and has been known to impersonate an independent consultant specializing in risk communication.