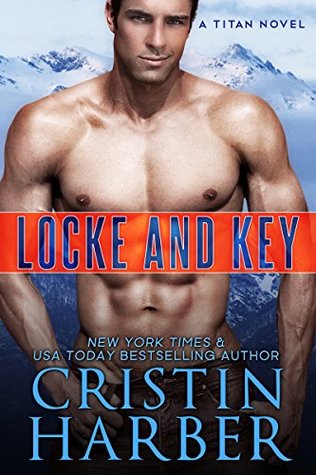 Title: Lock and Key (Titan #8)
Author:
Cristin Harber
Stars: 4 out of 5
Review:
From the first page to the last this book is a non stop action, danger, very tense situations that will keep reader reading every last work.
Locke and Key was a little hard to enjoy because readers will never get to stop and take a breath from the endless action and even when things start to slow down a little within a page or two the readers is thrown back into action.
Locke and Key has enough sexual tension to kill the readers with anticipation.
All in all it is a fast summer read that fits in the Titan world but can be read as a stand alone as well.
Thank you to Cristin Harber for the advance copy
Synopsis
:
THE STOIC SPECIAL FORCES OPERATOR
There's only one person to blame for darkening the last years of Locke Oliver's military career: Cassidy Noble. And damn if he doesn't have to save her from the side of a frozen mountain.
Even after the job is done, he can't shake the woman from his thoughts. He blames her for the deaths in his Army unit so many years ago, and he's not ready to let that go. It's driving him to the point of distraction, and now his Titan Group boss says to get his act together or get out.
THE FEISTY, FALLEN REPORTER
Cassidy is a disgraced journalist, once accused of treason—Or she's an American hero. It depends on who you ask. She's on a mission to rebuild her name and started with a simple question but discovered a complex web of spies and possible human trafficking.
Titan Group believes in her.
Locke does not. Until he can't deny the truth any longer about the past or what she's uncovered in her investigation.
BECOME AN INSEPARABLE TEAM
Cassidy volunteers to go undercover. Locke would do anything to stay by her side as she slips into the network and is sold to the highest bidder. All is going right until everything goes wrong. Nothing is as they expect, including falling in love with the woman he thought he hated.
Published May 2nd 2017 by Mill Creek Press
About The Author:
Cristin Harber is a New York Times and USA Today bestselling romance author. She writes sexy romantic suspense, military romance, and new adult. Fans voted her onto Amazon's Top Picks for Debut Romance Authors in 2013, and her debut Titan series was both a #1 romantic suspense and #1 military romance bestseller.
Author Website:
http://cristinharber.com/