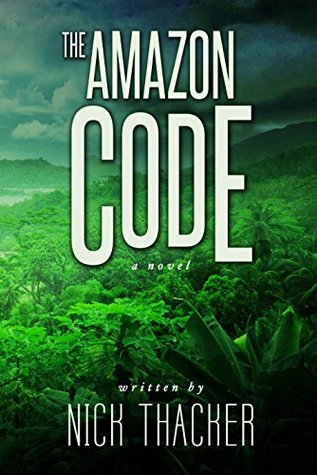 Title: The Amazon Code
Author: Nick Thacker
Stars: 4 out of 5
Review:
An action story that was filled with all that a reader is looking for in an adventure story. Damsels in distress, surprise attacks, gun fights, conspiracy, murder and general mayhem. All of this takes place in the Amazon and there is also contact with an unreported tribe for good measure. All in all an excellent story that was well-written.
I have rated this book four stars and would recommend it to anyone who enjoys adventure stories.
I obtained this book from Amazon in Kindle format.
Thank you Frank for the Review
Kindle Edition

,

428 pages
Published June 13th 2016 by Turtleshell Press
Synopsis:
When her company discovers a remarkable hidden message in the dreaming brains of her subjects, Dr. Amanda Meron unknowingly invites disaster unto her company. She enlists the help of some old friends to find out what the clues are pointing her toward, but they seem to be pointing her to one of the remote places on the planet.
The Amazon Rainforest.
When Harvey "Ben" Bennett gets a hint that the nefarious organization he's been searching for has turned up in Brazil, he and his new girlfriend Juliette Richardson race to the jungle to discover what they're after - and hopefully stop them.
From the myth of the lost city of El Dorado to emerging science technology,
The Amazon Code
has it all: action-packed adventure, an exotic setting, and characters you'll fall in love with.
Don't miss the next Harvey Bennett thriller - the new action/adventure, science-fiction series from bestselling author Nick Thacker!
About The Author:
Nick Thacker is an author of fiction (thrillers, action/adventure, etc.) novels and nonfiction books. His first novel, The Golden Crystal, was published in 2013 by Turtleshell Press, and his second, The Depths, was published in 2014.
He lives in a cabin on a mountain in Colorado with his wife, two dogs, and a tortoise, and enjoys skiing, brewing beer, golfing, and of course writing. Read more about Nick (and learn about the writing and self-publishing world) at his blog,
Links
www.livehacked.com
.