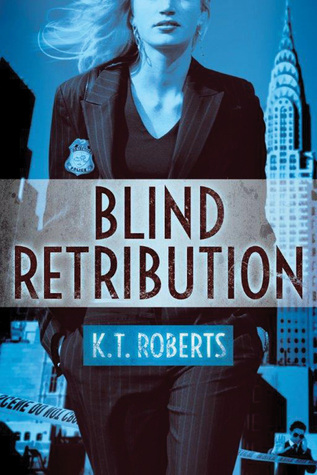 Title: Blind Retribution
Author: K.T. Roberts
Stars: 2 out of 5
Review:
Blind Retribution couldn't seem to figure out what type of book it wanted to be. Crime, Cop book, Romantic suspense (I didn't read anything suspenseful) Mystery with slight romance where the leads are not really connected. I just couldn't connect with this book and struggled with Max and Cory.
K.T. Roberts wrote Cory and Max as if the characters were feeling this unbelievable connection but while I read the book I didn't get that feeling. Instead it felt disconnected at times and awkward at best.
Cory talks without thinking first sweet words of romance and Max being hard core cop seem to eat up the words but than question them the next. It just felt disconnected at the best of times.
I found myself speed reading the last 55% of the book just wanting to figure out the killer hoping maybe there would be a last minute twist but instead its is what the reader expected.
The entire story felt disconnected, lack of emotions and boring at times. I finished the book after 3 days of struggling though it.
Sex and Violence fit the book are not graphic in fact I would call it simple, fast and done.
Advance Copy from netgalley for my honest thoughts.
Synopsis:
It should have been an open-and-shut case. When a car bomb explodes, taking with it the wife of a prominent heart surgeon, NYPD detective Maxine Turner is sure she has arrested the right suspect—until Cory Rossini, a private investigator, begins muddying the waters. Max already has enough to deal with: her longtime partner is retiring, her latest case is suddenly anything but simple, and she now has a troubling attraction to a man who is proving to be annoyingly persistent.
Having taken on the task of proving his friend's innocence, Cory isn't about to drop the ball—no matter how distractingly beautiful he finds the detective assigned to the investigation. When his sleuthing turns up other homicides connected to the cardiology department, including a young woman whose throat has been slit, he convinces Max that they should work together. And as they delve further into the vicious murders, they search for the one lead that will steer them straight to a killer
Expected publication: November 29th 2016 by Montlake Romance
About The Author:
K. T. Roberts writes romantic suspense with sass and brass, and is a best selling kindle worlds author in mystery, suspense and thrillers. She's currently working on two different series in the cozy mystery genre, as well as another romantic suspense which includes the Cosa Nostra, titled Sleeping with the Enemy.
In 2012 she decided to write in the genre that she loves to read: Romantic Suspense during which, the Kensington-Gerard Detective Series was born. The Last Witness is Book One in that series. Elusive Justice is Book Two, and Deadly Obsessions is Book Three. All are available in digital and paperback editions.
Blind Retribution is her first romantic suspense published by Montlake Romance Publishing with a release date of November 29, 2016. It's currently up for pre-order, and if you want to beat the crowd, I'd order it now.
Originally a Jersey Girl, she lives with her real-life hero, Bob, in Arizona. They have four children. Although she's a former chef, whipping up a gastronomic treat for family and friends has been relegated to the weekends because during the week, she's in front of her computer writing her next great novel.
She has memberships in Romance Writers of American, Valley of the Sun Romance Writers and Sisters in Crime.
For more information about her books, visit her website at http://ktrobertsmysteries.com , and while you're at it, drop her a note. She loves to hear from her readers.
Check out her blogs, and catch up with her on social media.
http://itsmurder.wordpress.com
http://cozycaperswordpress.org
Facebook: https://www.facebook.com/ktrobertsmysteries1
Twitter: https://twitter.com/ScribBLINGDIVA
Sign-up for her monthly newsletter titled K. T's Jersey Girl's Musings. A sample can be found on her website. Be the first to receive exciting news about releases, noteworthy events and chances to win prizes. Don't miss out on the fun!