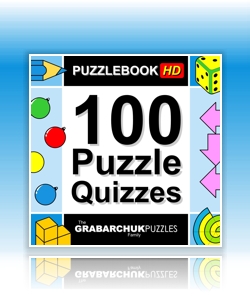 Title:
Puzzlebook: 100 Puzzle Quizzes (color and interactive!) [Kindle Edition]
Review:
Tons of puzzles to make you think and wonder. Numbers that don't match, steps to a destination, hidden words, which items don't belong, and many more puzzles to make you sweat. I played with this game and lost track of time(more than once.) The puzzles are addicting and kept me coming back for more. My son enjoyed this puzzle book also. He beat me in finishing, his brain seems wired better than mine.
I did find myself wishing that the puzzles came with better instructions on how to complete. I had to cheat a few times and see if I had the right answer until I got a better understanding of how that particular puzzle worked. As I played more, I realized that it was easier to figure out what the puzzle was asking. So the more I played the better I got.
My only complaint is I found the 5 way button a bit difficult to use when answering. I would rather have typed the answer, of course that wouldn't work well for all the different kinds of Kindles out there. But if you like puzzles and brain teasers, you will love this item. I played it on my Kindle with keyboard. Color would add a bit of spice to the game if you have a Fire or other tablet.
Quick Review:
3 Stars out of 5.
Where Did I Get the Game:
Sent by the designer for review.
Synopsis:
This is Volume 1 of the Top Rated Puzzlebook: Puzzle Quizzes series. In this brand-new puzzle collection you will find 100 pictorial, hand-crafted puzzle quizzes in different themes: logic, visual, spatial, counting, geometry, matchstick, coins, searching, and much more. Be sure to check Puzzlebook: 101 Puzzle Quizzes, Puzzlebook: 102 Puzzle Quizzes and Puzzlebook: 103 Puzzle Quizzes for more!
Over 700 000 downloads for the Puzzlebook series! Discover why thousands of Kindle users are addicted to Puzzlebooks.
All puzzle quizzes are original creations by the Grabarchuk Family and delivered exclusively for Kindle.
You can interactively answer and check a puzzle quiz by clicking the respective answer button. Only the correct answer leads to the solution page.
The collection is specially created for all kinds of solvers - beginners, skillful, and expert alike. The puzzles are arranged so that you start with the easy (*) puzzles and progress to the hard (*****) puzzles.
The book is created in full-color. Enjoy a colorful experience playing it on Kindle Fire or in a Kindle app on iOS, Android, PC, Mac, etc.