Title: Fatal Intentions: Sins of a Siren II
Author: Curtis Alcutt
Review:
The latest in Urban erotica, and you can know it is Urban because Streetz on the cover is spelled with a Z. To be honest I did not enjoy this book and I will get to that shortly, but for as bad as it was there was one thing that made reading it totally worth it. An expression that much to Lisa's chagrin has become a part of my personal lexicon. At one point in the book a woman's lady bits (genitalia, vagina, etc.) is referred to as a spasm chasm. That makes me smile every time I hear it, and this is one of those rare times I can honestly say an author has changed my life forever.
Unfortunately the rest of the book did not live up to that standard. Our story begins with the heroine, Trenda Fuqua, being released from prison after spending two years locked up. In her first twelve hours she experiences the following: visually sexually assaulted by a dyke (masculine lesbian?), assault and attempted rape by a drunk, actual sexual assault by a police officer, witness to public felatio and subsequent manslaughter of the felatio-er, attempted murder and her subsequent assault with a deadly weapon on the gang member to avoid her own death, and finally her almost involvement with her lawyer (and his lawyer girlfriend) in a threesome. In that last one she restricts herself to just sitting on the bed naked as she coaches the lady to perform the oral copulation just the way her lawyer likes (it involves prostate massage). Lest I forget she also reminisces about being a teenager masturbating outside the men's room at church so the aged handyman would come out and commit statutory rape (He Does!!). Now I can see all this happening in any given week, but all in the first 12 hours; come on.
All the more disconcerting is that before every bad or sexual thing the heroine recites a bible scripture to herself which made the whole the book seem a little schizophrenic. The main problem is the whole sexual angle of the book clearly came across as being written by a man. Imagine every lame pornography plot in which all a man has to do is suggest sex or show his penis and every woman immediately wants to have sex; and not just straightforward missionary but she is looking for things that would make Sasha Grey blush. Belladonna would need premium pay to consider it.
I guess I am saying that the sex was completely removed from reality. There was no suggestion of foreplay or any semblance of love in the intimacy. A good dirty story should tap into the possibility of the reader being able to identify with the character. Would this ever happen to me (obviously on your best day)? This was just graphic sex (and unrealistic sex at that) tied together with a very lose plot. Which is a shame, because the plot if it had been developed could have been a good story.
At the end of the day the author should put the story first, and grafted in some good realistic sex (with believable female characters) second. That would have been a good book. I would suggest researching Literotica.com to find some sex done right (to be fair it is also done horribly wrong there too), and best of all it is free. But still, SPASM CHASM!!!! Totally awesome.
Publisher: Strebor Books
ISBN:
978-1-59309-377-8
Copyright: 2012
Pages: 336
Quick Review: 1.5 stars out of 5
Why I Read It:
Beautiful black ladies getting their sexy on – what's not to love?
Where I Obtained the Book:
Sent to me by the publisher for review.
Synopsis:
A fast-paced thriller from the author of Sins of a Siren finds a young woman fighting for her life as she struggles to avoid her criminal past. After running away from home as a teen, seeking to escape her overprotective and heavily religious family, Trenda Fuqua is seduced by street life. Drug running, theft, and murder are part of the world she lands in. However, the religious teachings she grew up with are hard to shake off. Although she ended up in jail, Trenda manages to find peace within herself and rediscovers the Bible. She gets paroled, but temptation, bad luck, and threats to her family send her spinning down her former path of destruction. Can Trenda navigate the male-dominated criminal underworld? Following Sins of a Siren, Fatal Intentions grabs readers with a combination of action, thrills, and erotic excitement.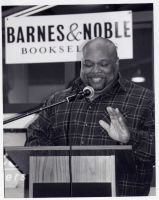 Author Biography:
Curtis L Alcutt is a Northern California native and author of several published urban fiction and urban erotica stories. Most recently he was picked up by Strebor/Simon&Schuster for his erotic thriller "Sins of a Siren." The follow up, "Fatal Intentions: Sins of a Siren 2" is scheduled to be released August of 2012. His writing journey began in 2005 with the publication of his first novel "Dyme Hit List," (now re-released as "Eyes of a Player,") which was very well received. He enjoys writing in many genres including sci-fi, fantasy and mystery. He's also half of the team responsible for penning the "Black Widow and the Sandman" suspense/thriller series (released June 28, 2011). Black Widow and the Sandman is a remarkable, ongoing writing project with his writing partner, Deatri King-Bey. They chose to write under the pseudonym L. L. Reaper because neither of them is known for writing in the suspense/thriller genre.