Title: The First Kiss of Spring (Eternity Springs #14)
Author: Emily March
Stars: 5
Review:
A well crafted modern love story that will keep the reader enthralled from beginning to end. A chance meeting between two visitors, when a ski cable car breaks down, leads to life changing events for both parties. A true girl meets boy and falls head over heels in love. However, like all good stories, the road to happiness loaded with pitfalls which the two star crossed lovers must traverse. A feel good story that must be read to be appreciated.
I have rated this book 5 stars.
Thank You Frank for your Review.
I voluntarily read and reviewed an advanced copy of this book. All thoughts and opinions are my own based on my unbiased review.
Synopsis:
Spring has come to Eternity Springs in the newest installment in this New York Times bestselling series by Emily March.
When Josh Tarkington gets stuck on a gondola with the lovely Caitlin Timberlake, he thinks his consistently bad luck might have changed.
After their blossoming romance is interrupted, Caitlin realizes that her encounter with Josh was a sign that she needed to make a major life change. So she packs up her things and moves to Eternity Springs, opens a day care, and sets her cap for the town's mechanic—Josh.
But Josh is hiding a well of secrets that would ruin him, and his relationship with everyone in Eternity Springs—especially Caitlin. When tragedy strikes, Josh and Caitlin find themselves, and their relationship, tested beyond imagining. Will they be able to find their way back to each other?
Published February 27th 2018 by St. Martin's Press
About The Author: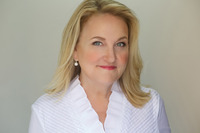 Pseudonym(s): Geralyn Dawson
Emily March is the New York Times, Publishers Weekly, and USA Today bestselling author of over thirty novels, including the critically acclaimed Eternity Springs series. Publishers Weekly calls March a "master of delightful banter," and her heartwarming, emotionally charged stories have been named to Best of the Year lists by Publishers Weekly, Library Journal, and Romance Writers of America.