Title: Kiss of a Duke (12 Dukes of Christmas #2)
Author: Erica Ridley
Stars: 4
Review:
The second installment of The 12 Dukes Of Christmas Regency series. Taking place in the far northern region of England where Christmas is celebrated 12 months of the year. The old spinster (34) scientist develops a scent (called Duke) that has women swooning at the feet of which ever man who happens to be using it at the time. Enter the notorious rake who wishes to stop the sale of such a scent as it endangers his position which he worked hard to achieve. Unbeknown to him she is working on a a new scent (called Duchess) that will do the same for women. Will the sparks ignite a firestorm between the two opposing forces? This is a regency romance for those who like both strong female and male characters.
I have rated this book 4 stars.
I received an ARC from Netgalley for my unbiased review.
Thank you Frank for your Review.
Synopsis:
Lady chemist Penelope Mitchell took England by storm with Duke, a perfume for men that has women swooning at their feet. To prove the same aphrodisiacal potency of her upcoming version for ladies, the new perfume must cause a rake to fall in love with her in ten days. And she has just the man in mind…
Sexy pleasure-seeker Nicholas Pringle—known as "Saint Nick" for his wicked ways—wants to end the absurd cologne that has every young buck believing himself a ladies' man. How hard can it be to charm a spinster into changing her mind? But when Penelope does the charming, this rakish scoundrel must decide between losing the war... or losing his heart.
Published November 6th 2018 by WebMotion
About The Author: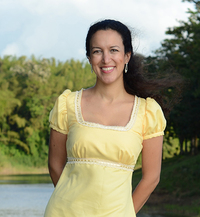 Erica Ridley is a
USA Today
and
New York Times
best-selling author of historical romance novels.
In her new
Rogues to Riches
historical romance series, sigh-worthy Regency rogues sweep strong-willed young ladies into whirlwind romances.
Fan-favorite
Dukes of War
features charming peers and dashing war heroes who return from battle only to be thrust into the splendor and madness of Regency England.
When not reading or writing romances, Erica can be found riding camels in Africa, zip-lining through rainforests in Costa Rica, or getting hopelessly lost in the middle of Budapest.