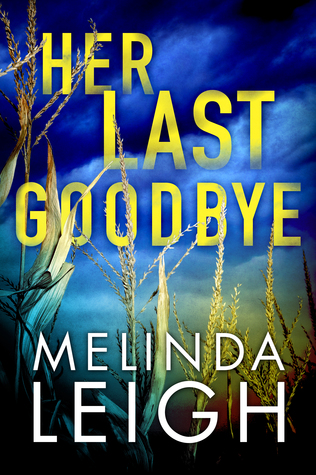 Title: Her Last Goodbye (Morgan Dane#2)
Author: Melinda Leigh
Stars: 5 Stars
Review:
Her Last Good Bye is a paced mystery that will keep readers on their toes, romance lovers sighing over Lance and Morgan and everyone else will enjoy the ride.
Author Melinda Leigh is one author that it doesn't matter how many books I read I can't seem to get enough of the stories. I have read everything she has written and I have yet to find one book that isn't a 5 star read.
Morgan Dane series is the newest series from Melinda Leigh and it is not to be missed.
Melinda Leigh is able to bring new reads up to date in just a few short words if you didn't want to start with book one you could move right into book two and know everything that is going on.
I love the authors ability to create characters that all types of readers will be able to enjoy their strengths, weakness and desire for the truth. The progression in the character development, rise and fall of the story as it progresses as well as the suspense that will have readers biting their nails is just one of the many reasons Melinda Leigh a must read author!
Thank you to Netgalley, The Author and Publisher for the advance Copy for my honest thoughts.
Synopsis:
Young mother Chelsea Clark leaves the house for a girls' night out…and vanishes. Her family knows she would never voluntarily leave her two small children. Her desperate husband—also the prime suspect—hires Morgan to find his wife and prove his innocence.
As a single mother, Morgan sympathizes with Chelsea's family and is determined to find her. She teams up with private investigator Lance Kruger. But the deeper they dig, the deadlier their investigation gets. When Morgan is stalked by a violent predator, everything—and everyone—she holds dear is in grave danger.
Now, Morgan must track down a deranged criminal to protect her own family…but she won't need to leave home to find him. She's his next target.
Expected publication: September 26th 2017 by Montlake Romance
About The Author:
Wall Street Journal bestselling author Melinda Leigh is a fully recovered banker. A life-long lover of books, she started writing as a way to preserve her sanity while raising her kids. Over the next few years, she learned a few things about writing a book. The process was much more fun than analyzing financial statements, and she decided to turn her hobby into a career. Melinda's debut novel, SHE CAN RUN, was nominated for Best First Novel by the International Thriller Writers. She is a RITA® Award Finalist and has earned three Daphne du Maurier Award nominations, two Silver Falchion Awards, and a Golden Leaf.
Melinda holds a 2nd degree belt in Kenpo Karate. She's dabbled in Arnis stick fighting, studied Brazilian Jiu-Jitsu, and taught women's self-defense. She lives in a messy house in the suburbs with her husband, two kids, a couple of shelter dogs and two rescue cats who clearly run the show. With such a pleasant life, she has no explanation for the sometimes dark and disturbing nature of her imagination.
Find out more about Melinda by visiting melindaleigh.com.