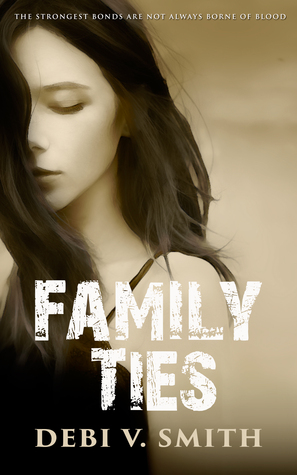 Title:
Family Ties
Author:
Debi V. Smith
Stars:
5 out of 5
Review:
Debi V. Smith's Family Ties is a book that is difficult to pin down. It takes place with characters that would fall into the age range for YA, but this book most definitely isn't your typical YA. It's full of scenes of love, hate, passion, and redemption, but it's no weepy melodrama either. It is a story told truthfully and without fanfare, but one everyone should read knowing that the girl we meet in the first few pages is most likely someone you already know. Someone who smiles because she knows she should, but inside is struggling and broken.

We meet Sara Parker as she makes what is possibly her first friend. Arissa moves in across the street from the Parker home in a California town. They bond, despite Sara's parents' rules against outsiders, and over the course of the book, we discover there are crueler rules and punishments than outlawing friends. Sara finds strength in her new friend and even more in a boy, Jason, who refuses to leave her side even after she pushes him away again and again.

However, this isn't standard fiction. Jason isn't a white knight in shining armor and Sara doesn't evolve superpowers. This isn't a fairy tale. There is no meet-cute. This is fiction told not through rose-colored lenses, but through cracked shards of glass. There are adult themes and language, but don't go looking for any bodice-ripping love scenes; they don't belong in realistic fiction such as this.

The prose is beautifully written, carefully crafted, and efficient in its description of scenes ranging from funny and sweet, to dark and traumatic. It is written in the first person, allowing the reader to feel what happens to Sara as it happens, good and bad.

The characters are drawn without caricature. Each of the main characters is a well-rounded, flawed character that remind us of friends (and enemies) we have come across in our daily lives. We may even feel like we see pieces of ourselves in them. Characters you'll remember long after the final page.

Be prepared. There is a lot of emotion in the pages of this book. You'll want to have a box of tissues handy. Quite possibly two.

Kudos and congratulations to the Author, Debi V. Smith, for her debut novel and for writing a novel that will change lives for the better.
Thank you Douglas Wimmer
Synopsis:
Sara Allison Parker spent the first fourteen years of her life living by strict rules and keeping her family's secrets. Simon and Tibby, her parents, and her younger sister, Victoria, treat Sara as an outcast, leaving her lonely within the family. The elder Parkers maintain control over Sara's life with rules, one of which is she is not allowed to make friends.

When Arissa Jericho moves in across the street and introduces herself to Sara, then Jason Waters befriends Sara at school, the carefully constructed world of the Parker household is threatened. As Simon and Tibby are forced to loosen their control to keep up appearances, Simon finds a way to assert a different type of power. Sara is convinced she will lose her friends if her secrets ever come to light because of her father. In a rare moment of daring, Sara stands up for herself. The next day, Simon's recklessness reveals one of the secrets in an ugly, public display.

Sara learns the true meaning of family, bravery, and love when Arissa and Jason stand by her after witnessing Simon's actions. Once Sara becomes comfortable, she lets her last secret slip out on accident, setting off a series of events that spins out of everyone's control.
Published June 26th 2015
About Author: