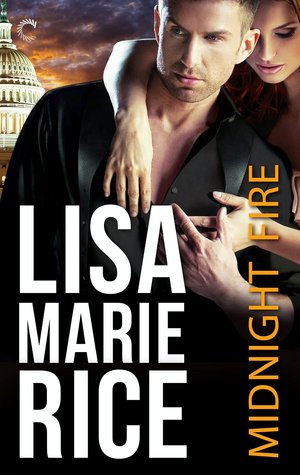 Title: Midnight Fire (Men of Midnight 4)
Author: Lisa Marie Rice
Stars: 5 out of 5
Review:
Lisa Marie Rice has redeemed herself after I wasn't able to finish Midnight Secrets. This story is the
story is a continuation of Isabel's book that I wasn't able to finish because the female and male leads were just bland.
Summer Redding is a political blogger who refuses to give up on a story. When a set of eyes she never forgot are on the eyes of a man who should be dead she decides to find out the truth. I enjoyed Summer Redding she was the perfect blend of feisty, sweet and honestly a great heroin.
Jackson
Delvaux
is back from the dead after this entire family is murdered. The CIA has hardened the once sweet loving guy who had the reputation of loving and leaving which Summer was one of those girls. I loved Jack in the fact he was so out of his element. Summer still saw him as the player but to him that kid died when he joined the CIA. The author had the male lead second guessing himself when it came to Summer which lead to some really fun moments bring a lightness to this romantic suspense novel.
With this being book 4 I never once found myself lost in the book even though it was a continuation from the previous novel. Lisa Marie Rice made sure new readers wouldn't be lost and readers a quick catch up for those who have read the other novels.
Midnight Fire has the perfect blend of suspense and romance for those who love things to go boom and those who love the second chance romances.
Sent to me for my honest review from Netgalley
Release Date September 21, 2015

Synopsis
Jack Delvaux is alive
Summer Redding thought the blindingly handsome jock who'd loved and left her years ago had died in the Washington Massacre. She grieved for her lost golden boy as the rest of the country mourned their dead—until she comes home to find a very alive Jack Delvaux waiting for her with a devastating secret that turns her life upside down.
No longer the carefree man he was in his youth, this Jack is dark, hard and dangerous; a fifteen-year veteran of the CIA hungry for answers…and hungry for her. The rich, good-looking charmer who broke her heart once before would have been easy to resist, but this man, this powerful man? Summer needs him, and he knows it.
When Jack's mission uncovers evidence of government involvement in the Massacre—and plans for another attack—he's primed for revenge. But he has more than vengeance to live for now, and when Summer's life is threatened, it's nearly Jack's undoing. Someone taking shots at his woman? That's a dead man walking.
Publisher Carina Press. Sold by: Harlequin Digital Sales Corp.
About this author
http://www.amazon.com/Midnight-Fire-Men-Book-ebook/dp/B00XQ1OYC0
http://www.barnesandnoble.com/w/midnight-fire-lisa-marie-rice/1121934912?ean=9781459290167