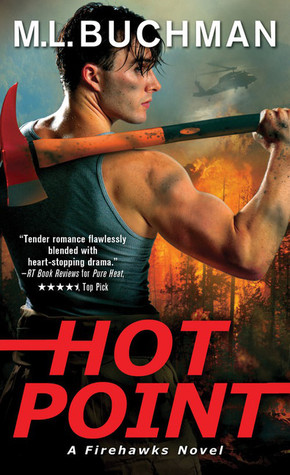 Title
: Hot Point
Author:
M.L. Buchman
Stars
: 5 out of 5
Review:
This is my first book by M.L. Buchman and I can't wait to read more from this author.
Master mechanic Denise Conroy has the reputation of being steel-clad and shuns useless flyboys who doesn't know what a wrench is. Firehawk pilot Vern Taylor is known for his charm and ability to think out of the box when flying into fires. When he brings back Firehawk broken down and burning Denise and Vern find they have more in common than a helicopter.
Author M.L Buchman slowly builds a romantic suspense novel by giving the readers something to sink their teeth into. This is book four however you never once feel lost with the different characters that are introduced throughout the novel. There is nothing fluffy about this book M.L Buchman gives the readers a fly by the seat of your pants roller coasters with the perfect amount of romance and actions.
Never once did the story stop moving and the romance is completely believable because it progresses thought the story so when they fall in love it doesn't feel pushed. Denise is flawed but she is smart and knows how to handle stress. Vern is fun loving pilot who helps to balance out the serious side of Denise.
This is not only a great summer read but this book will having your wanting to read more from M.L Buchman
Sent to me from Netgalley ARC
Thanks Heidi for this review,
Synopsis
: THESE AIRBORNE HEROES BATTLE MORE THAN FLAMES
The elite firefighters of Mount Hood Aviation fly into places even the CIA can't penetrate.
FROM WILDFIRE TO GUNFIRE
Master mechanic Denise Conroy—with a reputation for being as steel-clad as the aircraft she keeps aloft—shuns useless flyboys who don't know one end of a wrench from the other.
Firehawk pilot Vern Taylor—known for unstoppable charm and a complete lack of mechanical skills—proves his talent for out-of-the-box thinking with every flight. He's a survivor and a natural-born heli-aviation firefighter.
When Denise and Vern crash together in the Central American jungle with wildfire on one side and a full-fledged military coup on the other, their newly forged partnership is tested to the max. They have each other, but not even their formidable skills combined can protect Denise and Vern from the conflagration sweeping the jungle... and their hearts.
Mass Market Paperback, 352 pages
Expected publication: August 4th 2015 by Sourcebooks Casablanca
Author Information
: M. L. Buchman has over 25 novels in print. His military romantic suspense books have been named Barnes & Noble and NPR "Top 5 of the year" and Booklist "Top 10 of the Year." In addition to romance, he also writes thrillers, fantasy, and science fiction.
In among his career as a corporate project manager he has: rebuilt and single-handed a fifty-foot sailboat, both flown and jumped out of airplanes, designed and built two houses, and bicycled solo around the world.
He is now making his living full-time as a writer, living on the Oregon Coast with his beloved wife. He is constantly amazed at what you can do with a degree in Geophysics. You may keep up with his writing at www.mlbuchman.com.