Title
: Between a Rock and a Hard Place
Author
: Marty Wingate
Review
: Having read other offerings by Marty Wingate I was looking forward to reading this offering. I was immediately grabbed by the prologue and set back to enjoy the book. The main character is Pru Parke a transplanted Texan residing in the UK. The story had great potential but I do not think it lived up to the expectation. I was left wondering what happened to the mystery.
I would give it a 3.5 star rating.
I received this book as an ARC from Net Galley for my unbiased review.
Thanks Frank for this review.
Synopsis:
Perfect for fans of Laura Childs, Ellery Adams, and Jenn McKinlay, Marty Wingate's enchanting Potting Shed Mystery series heads to Scotland as Pru Parke plans her wedding . . . all while a vengeful murderer is poised to strike again.
After her romantic idyll with the debonair Detective Chief Inspector Christopher Pearse culminates in a marriage proposal, Pru Parke sets about arranging their nuptials while diving into a short-term gig at the Royal Botanic Garden Edinburgh. At hand is the authentication of a journal purportedly penned by eighteenth-century botanist and explorer Archibald Menzies. Compared to the chaos of wedding planning, studying the journal is an agreeable task . . . that is, until a search for a missing cat leads to the discovery of a dead body: One of Pru's colleagues has been conked on the head with a rock and dumped from a bridge into the Water of Leith.
Pru can't help wondering if the murder has something to do with the Menzies diary. Is the killer covering up a forgery? Among the police's many suspects are a fallen aristocrat turned furniture maker, Pru's overly solicitous assistant, even Pru herself. Now, in the midst of sheer torture by the likes of flamboyant wedding dress designers and eccentric church organists, Pru must also uncover the work of a sly murderer—unless this bride wants to walk down the aisle in handcuffs.
ebook, 288 pages
Expected publication: August 4th 2015 by Alibi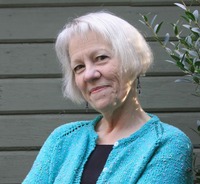 Author information
: Marty Wingate is a Seattle-based writer and speaker about gardens and travel. She is the author of the Potting Shed mysteries from Random House/Alibi, about Pru Parke, middle-aged American gardener who moves to England and digs up more than weeds. The first two in the series are The Garden Plot and The Red Book of Primrose House, followed by the third in late summer 2015. Her new cozy mystery series, Birds of a Feather, begins in June 2015 with The Rhyme of the Magpie. You can hear Marty on the podcast A Dry Rain, free from iTunes and always available at adryrain.net. She leads garden tours to European and North American destinations.