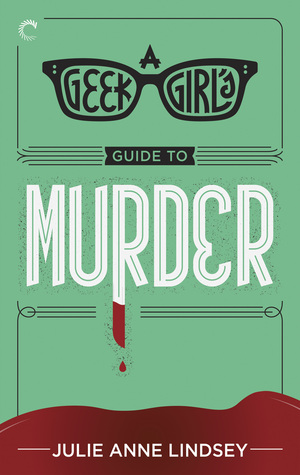 Title
: A Geeks Guide to Murder
Author
:
Julie Anne Lindsey
Stars
5 out of 5
Review:
Mia Connors is IT manager for Horseshoe Falls community, but when the email system fails Mia doesn't have time to track down a computer hacker. Not with the Renaissance Faire season in full swing where her family business relies on her presence. Than Hunky head of security and Mia go head to head and things get messy not to mention her missing friend and a dead body.
From being to end of A Geeks Girls Guide to Murder is hands down one of the funniest book I have read in a long time. Author Julie Anne Lindsey has created a very memorable character, Mia Connors, who has social issues because she is more comfortable with computers and gaming than human interaction. However author Julie Anne Lindsay has made Mia Connors very relatable. Her family is a nutty but you will grow to love them as a reader. In fact her family brings some of the most memorable laughs though out the book. This book has a great cast of characters that will draw the readers wish they were friends you had in your life.
This book had me laughing so much and I couldn't put the book down until I read every last page. There is not sex in the book and it is very clean for those who like a fun lighthearted mystery.
This is a perfect summer murder mystery for those who need a little fun, a good laugh and a female charterer who reminds you of a geeky, glasses wearing, computer loving Nancy Drew.
Received from Netgalley for a honest review
Thanks Heidi for this review -
Synopsis
: IT manager Mia Connors is up to her tortoiseshell glasses in technical drama when a glitch in the Horseshoe Falls email system disrupts security and sends errant messages to residents of the gated community. The snafu's timing couldn't be worse—Renaissance Faire season is in full swing and Mia's family's business relies on her presence.
Mia doesn't have time to hunt down a computer hacker. Her best friend has disappeared, and she finds another of her friends murdered—in her office. When the hunky new head of Horseshoe Falls security identifies Mia as the prime suspect, her anxiety level registers on the Richter scale.
Eager to clear her name, Mia moves into action to locate her missing buddy and find out who killed their friend. But her quick tongue gets her into trouble with more than the new head of security. When Mia begins receiving threats, the killer makes it clear that he's closer than she'd ever imagined.
ebook
Expected publication: August 31st 2015 by Carina Press
Author Information
: I tell stories, mostly to my children, sometimes to strangers. I'm YA obsessed, addicted to social media, caffeine and Poptarts. You can find me anytime lurking around the Internet, amped up on sugar and wielding a book.
I blog at http://blog.juliealindsey.com
and Tweet @JulieALindsey