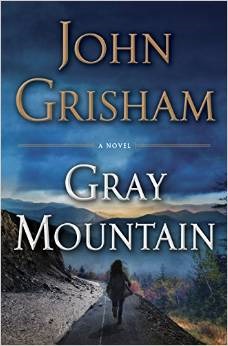 Title: Gray Mountain
Author: John Grisham
Review: I find John Grisham's books of the last several years fall into
two camps. He is either trying to tell a light hearted tale that
inevitably feels like he is writing to meet a deadline. By that it seems
he reached a required number of pages and then cuts off. The other type of
book is when he has found a social injustice in his travels and he wants to
make sure you understand it the same way he does, even if that means he has
to beat you over the head with it until you give up.
Gray Mountain is one of those latter type books. The crime is the strip
mining of the Appalachia Mountains and the environmental wreck it is
leaving. Now while I agree that it is a horrendous practice that will have
repercussions for many generations, Grisham has no subtlety in presenting
his case. Imagine the cutest puppy you have ever seen, smiling gently as
he frolics through a field of daisies. Then imagine Hitler stomping on
that puppies head; laughing. That is how the case is presented.
I would have preferred to a seen a little humanity from the coal miners,
and a little pretentiousness from the defending lawyers, because it is
always there. It would have given the reader a chance to think and reason
themselves to a conclusion. Instead it is so one sided I found myself not
trusting the author, wondering what he is not saying.
The B-plot was also very interesting, exploring how the working poor are
beat up by the system and the collection agencies. For the want of a
competent lawyer these people are buried in the legal system, often with no
way out. The end up dependent on the state or turn to crime, there is
literally no way to recover. For example you end up 10 dollars in debt, but
by the time the system is done you find yourself owing another 500 dollars
in fees. They keep piling on until you give up. How does that help? That
is why the Old Testament speaks out against usury, making money off other
people's tragedies.
A good book to get you thinking about these issues, but it will leave you
wanting a more balanced presentation of the facts.
Publisher: Double Day
Copyright: 2014
Pages: 368
ISBN: 9780385537148
Quick Review: 4 Stars out of 5.
Why I Read it: I enjoy John Grisham and currently up to date with his
books.
Where I Obtained the Book: At my local library.
Synopsis: The Great Recession of 2008 left many young professionals out of
work. Promising careers were suddenly ended as banks, hedge funds, and law
firms engaged in mass lay-offs and brutal belt tightening. Samantha Kofer
was a third year associate at Scully & Pershing, New York City's largest
law firm. Two weeks after Lehman Brothers collapsed, she lost her job, her
security, and her future. A week later she was working as an unpaid intern
in a legal aid clinic deep in small town Appalachia. There, for the first
time in her career, she was confronted with real clients with real
problems. She also stumbled across secrets that should have remained buried
deep in the mountains forever.