Title: One Last Breath
Author(S) Lisa Jackson and Nancy Bush
Star: 3
Review:
One Last Breathe pulls readers in but soon puts them to sleep as the story drags on until almost the end of the story than it picks up once again. The problem is getting though the slow parts of the book.
The characters are flat and have very little interest to keep this reader wanting more. Pushing though the story finding that Rory isn't feisty but the female lead you start to hate. Instead of going to the man she "Loves" she runs away to the point it becomes an eye rolling scenes.
One Last Breath isn't much more than a blip on the spring to read pile.
Thank you to Netgalley and Zebra for the advance copy of Lisa Jackson and Nancy Bush One Last Breath.
Synopsis:
EVERY FAMILY HAS ITS SECRETS
Rory Abernathy's wedding to Liam Bastian turned into a bloodbath. She fled after stabbing a masked intruder, just before a gunman opened fire on the wedding party. Five years on, Rory still has no idea who was behind the attacks. Fearful she and her daughter remain targets, she's made a new life far from Liam and the wealthy, powerful Bastians.
BUT SOME
But even in remote Point Roberts, Washington, she can't hide from the past. Liam tracks Rory down, stunned to learn they have a child. Did someone in Rory's family try to kill him for his portion of the Bastian estate? As they gradually overcome distrust in search of the truth, Rory knows one thing for certain: someone is watching her…
ARE WORTH KILLING FOR
Time has passed, but the killer's need for vengeance hasn't. And as a nightmare stirs to life again, Rory will find that this time, there's nowhere left to run…
About The Author:(S)
Lisa Jackson is the number-one
New York Times
bestselling author of more than 85 novels, including
Afraid to Die, Tell Me, You Don't Want to Know,
Running Scared,
Without Mercy,
Malice,
and
Shiver
. She is also the co-author of the Colony Series
,
co-written with her sister, Nancy Bush. There are over 20 million copies of Lisa Jackson's books in print in twenty languages.
Before she became a nationally bestselling author, Lisa Jackson was a mother struggling to keep food on the table by writing novels, hoping against hope that someone would pay her for them. Today, neck deep in murder, her books appear on
The New York Times
, the
USA Today,
and the
Publishers Weekly
national bestseller lists.
With over thirty bestsellers to her name, Lisa Jackson is a master of taking readers to the edge of sanity – and back – in novels that buzz with dangerous secrets and deadly passions. She continues to be fascinated by the minds and motives of both her killers and their pursuers—the personal, the professional and downright twisted. As she builds the puzzle of relationships, actions, clues, lies and personal histories that haunt her protagonists, she must also confront the fear and terror faced by her victims, and the harsh and enduring truth that, in the real world, terror and madness touch far too many lives and families.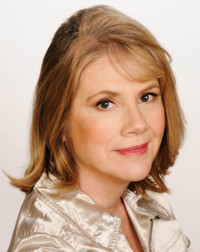 Bestselling author Nancy Bush has had an eclectic writing career. She started her first story when she heard how young mothers were making money writing romance novels. She thought, "I can do that," and talked her sister, bestselling author, Lisa Jackson, into joining her in her foray into writing. At the time Nancy was a young mother herself. Now, she says she's just…a mother.
Nancy began her career in the romance genre, writing both contemporary and historical novels, but being a mystery buff, she kept trying to add suspense into the plot, as much as her editors would allow. In 2002 she was chosen by ABC Television to be part of a writing group "think tank" which was tasked with developing story for ABC's daytime dramas. She was one of two people selected from that group to actually become a breakdown writer for, at the time, one of ABC's top-rated daytime shows: ALL MY CHILDREN. Nancy made the move to New York to join the AMC team while she was writing for the soap. That was an experience, she admits. Ask her, and she'll swear that the pressure cooker of delivering story every day – lots and lots of story -- helped focus her writing.
When Nancy returned to her home state of Oregon she channeled that newfound energy into writing the kind of books she's always loved: mysteries. She wrote three Jane Kelly Mystery novels in the space of three years, and has another one currently in proposal form. The last several years she's turned her attention to romantic suspense novels, writing both with her sister and on her own. Like Lisa, sh e's now a New York Times and USA Today bestselling author, both in her co-writing ventures and on her own merits as well.
Nancy's latest project? Summer 2012 is the kick off for her newest suspense series with NOWHERE TO RUN debuting in August and NOWHERE TO HIDE in September. A third 'Nowhere' book is scheduled for next year.
Nancy has recently received the rights back to many of her earlier novels and the Danner Quartet, one of her most beloved series, is available again in e-book form. LADY SUNDOWN, MIRACLE JONES, JESSE'S RENEGADE and SCANDAL'S DARLING follow the ups and downs of the irrepressible Danner family in turn of the century Oregon. Nancy also has a number of contemporary romances that have been updated and reformatted and now have new life as e-books. Look for THE PRINCESS AND THE PAUPER, DEAR DIARY, and the Summer Lovin' Duets: SUMMERTIME BLUES and IMAGINARY LOVER along with many more in the coming months.