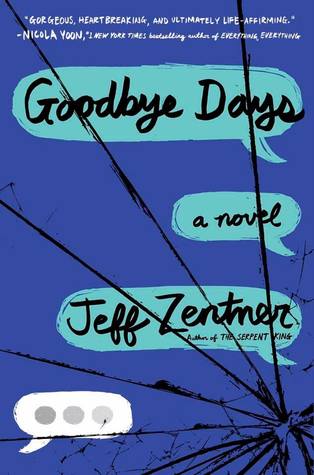 Title: Goodbye Days
Author: Jeff Zentner
Stars: 4 stars
Review:
I do not like to cry for any reason and I will not go see a sad movie or read a sad book for that reason, but his book hit so many other marks as a story that I allowed the tears to come over and over again. This is a book I pulled from the shelf in my language arts room at school. We had ordered many books for the students and I am trying to read them all so I have good suggestions to make to students looking for a book to read during independent reading time in class. I pulled this one and started reading it without know what it was about.
A few friends are driving when another friend texts them to hurry up, the 3 boys are killed in an accident at that same time. This is the story of how the one boy who sent the text copes along with the families of the 3 that are killed. Heartbreaking and beautiful at the same time. I loved this book even with all the tears. The idea of goodbye days really made me think about death and how we deal with it. I would give this book 4 out of 5 stars for the topic it dealt with is tough, but the story was lovely and filled with hope and love. Forgiveness of ourselves is the hardest forgiveness to give. This is a book that will keep you reading and thinking about long after you have sent it down.
Thank You Lisa for the Review
Synopsis:
What if you could spend one last day with someone you lost?
One day Carver Briggs had it all—three best friends, a supportive family, and a reputation as a talented writer at his high school, Nashville Academy for the Arts.
The next day he lost it all when he sent a simple text to his friend Mars, right before Mars, Eli, and Blake were killed in a car crash.
Now Carver can't stop blaming himself for the accident, and he's not the only one. Eli's twin sister is trying to freeze him out of school with her death-ray stare. And Mars's father, a powerful judge, is pressuring the district attorney to open a criminal investigation into Carver's actions.
Luckily, Carver has some unexpected allies: Eli's girlfriend, the only person to stand by him at school; Dr. Mendez, his new therapist; and Blake's grandmother, who asks Carver to spend a Goodbye Day with her to share their memories and say a proper goodbye to his friend.
Soon the other families are asking for a Goodbye Day with Carver, but he's unsure of their motives. Will they all be able to make peace with their losses, or will these Goodbye Days bring Carver one step closer to a complete breakdown or—even worse—prison?
About The Author:
Jeff Zentner lives in Nashville, Tennessee. He came to writing through music, starting his creative life as a guitarist and eventually becoming a songwriter. He's released five albums and appeared on recordings with Iggy Pop, Nick Cave, Warren Ellis, Thurston Moore, Debbie Harry, Mark Lanegan, and Lydia Lunch, among others.
Now he writes novels for young adults. He became interested in writing for young adults after volunteering at the Tennessee Teen Rock Camp and Southern Girls Rock Camp. As a kid, his parents would take him to the library and drop him off, where he would read until closing time. He worked at various bookstores through high school and college.
He speaks fluent Portuguese, having lived in the Amazon region of Brazil for two years.