Title: The Sweetheart Mystery (Brash & Brazen #4
Author: Cheryl Ann Smith
Stars: 4 stars out of 5
Review:
I jumped into the middle of the series and while most readers can start at book 4 after finishing this book I can't wait to start reading the first in the series.
The Sweetheart Mystery is laugh out loud fun that will have readers smiling. The author descriptions of the different characters is cute and fun which will bring a smile to readers.
The story is a cute blend of mystery and romance which will have readers falling in love with Cheryl Ann Smith Characters wanting to read more.
The Sweetheart Mystery is a laugh-out loud funny romantic mystery that will bring a smile to readers.
Thank you to Netgalley and Lyrical Shine Publishing for the advance copy
Synopsis:
Sure, Harper made a few unsavory threats against her team's manager—she'd had a few drinks and she despised the skimpy uniform he expected her to wear. That didn't mean she wanted him
dead
. But when the sleazy dude is found murdered in his tighty whiteys, Harper is the number one suspect—and former FBI agent Noah Slade is the one man who can help. Too bad she once told Noah she never wanted to see him again . . .
Noah may have done a number on Harper's heart all those years ago, but he's determined to do right by her now. Yet the fiery beauty isn't the only demon from his past, which makes hunting down a murderer by her side . . . complicated—never mind the powerful attraction still pulsing between them. Good thing he's willing to do just about anything to keep from losing Harper again. And an old love just might bring her a new career—assuming she can stay out of jail . .
Kindle Edition

,

1st edition

,

228 pages
Published November 14th 2017 by Lyrical Shine
About The Author: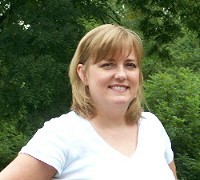 A fan of historical romance fiction, author Cheryl Ann Smith combines a love of history and all things English to create stories that link both passions.
She lives in Michigan with her family, two cats and a very hairy dog. She enjoys outdoor adventures and traveling, when she has the time, and hopes to make her first visit to England in the very near future.