Title:
Saving Mercy
Author:
Abbie Roads
Stars
: 5 Stars I would give more if I could
Review:
Abbie Roads blew my mind away with this book. Yes the protagonist is broken, damaged but he works hard to rise above his up bring to right the wrongs of his father. The readers is given glimpse of the broken little boy though the eyes of the female lead. While readers are given Mercy POV it doesn't take away from the story but only enhances it more. The protagonist has depth and the author doesn't rely of the typical FBI story lines. She pulls is able to bring the characters to life.
The book has a supernatural side but it really doesn't overtake the story in anyway instead it only brings the story to life pull at readers heart strings and minds.
Saving Mercy isn't about saving the woman as much as it is saving the protagonist from his mind, and fathers control.
Abbie Roads is able to pull from the real world experiences as a therapist which helps the story to come alive.
The romance is believable in this story.
The ending of the story is tied quickly in a nice little bow but the build up to the last few chapters Abbie gives the readers a ride they will never forget not to mention they will want to run out and tell their friends. This is a must read.
Thank you Netgalley and the author for an advance copy
Synopsis:
He's found her at last
Cain Killion knows himself to be a damaged man, his only saving grace the extrasensory connection to blood that he uses to catch murderers. His latest case takes a macabre turn when he discovers a familiar and haunting symbol linking the crime to his own horrific past-and only one woman could know what it means.
Only to lose her to a nightmare
Mercy Ledger is brave, resilient, beautiful-and in terrible danger. The moment he sees Mercy, Cain knows he's the one who can save her. He also knows he's beyond redemption. But the lines between good and evil blur and the only thing clear to Cain and Mercy is that they belong together. Love is the antidote for blood-but is their bond strong enough to overcome the evil that stalks them?
Kindle Edition
,
320 pages
Expected publication: April 4th 2017 by Sourcebooks Casablanca
About The Author: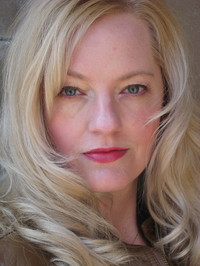 Seven Things about Abbie Roads:
1. She loves Snicker Parfaits. Gotta start with what's most important, right?
2. She writes dark emotional books featuring damaged characters, but always gives her hero and heroine a happy ending… after torturing them for three hundred pages.
3. By day she's a mental health counselor known for her blunt, honest style of therapy. At night she burns up the keyboard. Well… Burn might be too strong a word. She at least sits with her hands poised over the keyboard, waiting for inspiration to strike. And when it does—the keyboard might get a little warm.
4. She can't stand it when people drive slowly in the passing lane. Just saying. That's major annoying. Right?
5. She loves taking pictures of things she thinks are pretty.
6. She lives in Marion, Ohio with her favorite fellow and two fur babies.
7. Being a published author is a dream come true for her.
*A special note from Abbie Roads
Dear Readers,
I wrote RACE THE DARKNESS from start to finish three different times, with three different story lines, and with three different titles! The only thing that ever remained the same between the versions was Xander and Isleen. I believed in them and the story they wanted to tell. I hope you love reading about their tragedies and triumphs as much as I enjoyed writing them… All three times! And isn't the cover amazing, beautiful, gorgeous? I cried the first time I saw it! It made all the hard work to get this book to you worth it!
Abbie Roads
Authors Website:
http://abbieroads.com