Title: Refuge on Crescent Hill
Author: Melanie Dobson
Stars: 4 stars out of 5
Review:
A romantic mystery/love story set in a small town in Ohio. It is a christian story and contains no blatant, and needless, sexual content. The story is well developed and is able to tie the underground railroad into the plot and not leave the reader wondering. It also was able to include spouse/partner abuse in the overall storyline. I enjoyed the book and was able to finish it in one day.
I have rated this book 4 stars.
I obtained this book from Amazon in Kindle format.
Synopsis:
Moving home after a recent job loss was supposed to reassure Camden Bristow and give her time to decide what to do next. But when she arrives in Etherton, Ohio, she discovers that her grandmother, who she hasn't talked to in years, has passed away and "home" is an empty mansion 150 years old. Not exactly the comfort Camden was looking for. What happened to the house she played in as a child, the bedtime stories that told of secret passageways and runaway slaves, and all those family memories? When antiques start disappearing and footsteps are heard, some of those memories start to creep back and Camden wonders if her grandmother's bedtime stories might actually be true. What really happened here . . . at Crescent Hill? How was her grandmother involved? Who still has access to the house? And for what purpose? As she works to uncover the past and present mysteries harbored in her home, Camden also uncovers secrets about her family that could change the town--and her life--forever.
Published March 11th 2010 by Kregel Publications
About The Author: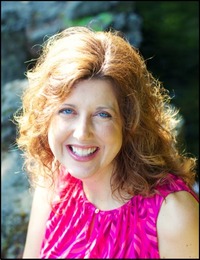 Writing novels is a fun excuse for Melanie to explore ghost towns and old houses, travel to unusual places, and spend hours reading dusty books and journals. She writes both contemporary and historical fiction with threads of romance and suspense.
Melanie is the award-winning author of sixteen historical romance, suspense, and contemporary novels including Catching the Wind, Beneath a Golden Veil, and The Silent Order. Three of her novels including Chateau of Secrets have won Carol Awards, and Love Finds You in Liberty, Indiana won Best Novel of Indiana.
Melanie and her husband, Jon, have two daughters. After moving numerous times with Jon's work, the Dobsons have finally settled near Portland, Oregon, and they love to travel and hike in both the mountains and the cliffs above the Pacific. When Melanie isn't writing or researching, she enjoys line dancing, biking, and making up stories with her kids.