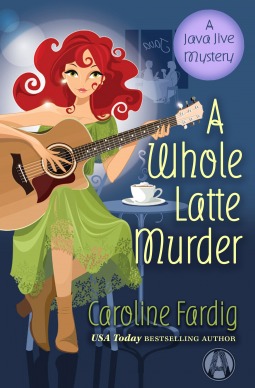 Title: A Whole Latte Murder
Author: Caroline Fardig
Stars: 4 out of 5
Review:
The redheaded she devil is back and up to her neck in murder and mayhem. Although she has sworn off of getting involved in police investigations somehow she always finds herself in the thick of things and as usual they go to hell in a basket very rapidly. However our heroine is able to maintain her wits about her and carefully put the pieces of the puzzle together and resolve the problem for the police.
I enjoyed this offering and gave it a four star rating. I recommend it for Individuals who cozy mysteries with well rounded characters.
I received an ARC from Netgalley for my unbiased review.
Coffeehouse manager and reluctant sleuth Juliet Langley returns in a gripping novel from the bestselling author of Death Before Decaf and Mug Shot. Just as things are perking up in Nashville, a serial killer sends tensions foaming over.
Juliet's personal and professional lives have recently received an extra jolt of energy. Her romance with the hunky detective Ryder Hamilton continues to simmer, and business at Java Jive has never been better. But her good mood quickly turns as stale as day-old espresso when she finds out that Ryder has been promoted to his precinct's homicide division. With him risking his life to catch the worst kind of criminals, Juliet's growing sense of unease ignites when a local college student goes missing.
Suddenly every Nashville resident is on high alert, especially Juliet's neighbor Chelsea. Juliet does her best to calm the girl's nerves, but her worst fears are confirmed when she finds Chelsea dead. Even though she tries her best to stay out of it, Juliet's involvement puts a strain on Ryder's first homicide case. The situation soon becomes even more personal for Juliet and her best friend Pete Bennett when one of their employees disappears during her shift. As a killer lurks in the shadows, Juliet, Pete, and Ryder seek out a double shot of justice.
Expected publication: November 8th 2016 by Alibi
CAROLINE FARDIG is the USA TODAY BESTSELLING AUTHOR of the Java Jive Mysteries series and the Lizzie Hart Mysteries series. Fardig's BAD MEDICINE was named one of the "Best Books of 2015" by Suspense Magazine. She worked as a schoolteacher, church organist, insurance agent, funeral parlor associate, and stay-at-home mom before she realized that she wanted to be a writer when she grew up. Born and raised in a small town in Indiana, Fardig still lives in that same town with an understanding husband, two sweet kids, two energetic dogs, and one malevolent cat.