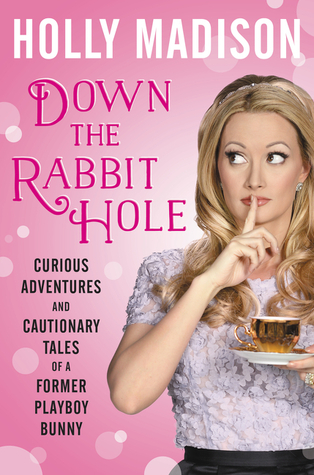 Title: Down The Rabbit Hole
Author: Holly Madison
Stars: 4 out of 5
Review:
I can't really tell you why I picked this book up at the library but once I started reading I couldn't put the book down. Holly Madison write as she talks so it feels extremely personal as she tells her story of life as a Playboy Property. Nothing in this book surprised me and in fact I almost felt sorry for the girls who choose and chose this lifestyle and how destructive it is not only to their physical but their emotional well being.
Holly threw open the doors of a not so secretive lifestyle and how a man pitted women against each other to make himself feel better. This book has the reader seeing Hugh Hefner as the dirty old man everyone avoids but because he has millions women instead flock to him
Even though I think Holly made a lot of terrible choice in life she choose that life style so it hard to feel sorry for her. However I do find she has a strong backbone in the fact she gave up easy life
.
No one is going to read this book for its heart warming tales lets face it everyone is reading this out of morbid curiosity. Holly Madison talks about very personal details, cat fights and the crazy things that happened at the mansion as well as life after the mansion
.
Overall this book is a inside look of one persons life in the playboy world. If nothing else this book has we wanting to lock my daughters up and never allow them to leave the house. Playboy people deserve each other, they are all cut from the same cloth. Appearances means everything!
Synopsis:
A former girlfriend of Hugh Hefner describes how her years inside the Playboy Mansion went from a fairytale of A-list celebrity parties to an oppressive regime of strict rules, scheduled sex, and a total loss of identity, so much so that she even contemplated suicide.
Published June 23rd 2015 by Dey Street Books
About The Author: