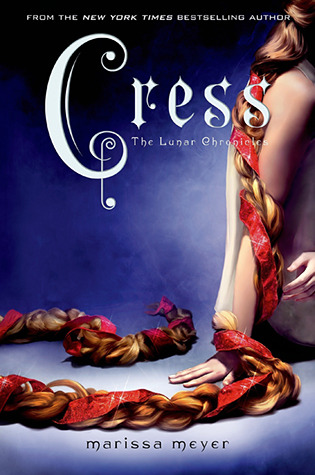 Review:
Cress
is the second in an ongoing series called The Lunar Chronicles. I read the first two in the series and was excited to read this edition. It did not disappoint. It is jam packed with action and intense situations. There were many times when I simply couldn't put it down. Cress is a character that is easily to relate to. She is young, naive, endearing and you simply want her to be happy. The three characters Cinder, Scarlett and Cress finally come together to try to "save the world." The only disappointment I had with this book is that the next book hasn't come out yet and I can't wait to read it! It leaves you hanging, so beware!
Thank you Heather for this review.
Publisher:
Feiwel & Friends
Quick Review
: 4 out of 5 stars
Where I got the book:
my sister recommended it
Synopsis:
In this third book in the Lunar Chronicles, Cinder and Captain Thorne are fugitives on the run, now with Scarlet and Wolf in tow. Together, they're plotting to overthrow Queen Levana and her army.
Their best hope lies with Cress, a girl imprisoned on a satellite since childhood who's only ever had her netscreens as company. All that screen time has made Cress an excellent hacker. Unfortunately, she's just received orders from Levana to track down Cinder and her handsome accomplice.
When a daring rescue of Cress goes awry, the group is separated. Cress finally has her freedom, but it comes at a high price. Meanwhile, Queen Levana will let nothing prevent her marriage to Emperor Kai. Cress, Scarlet, and Cinder may not have signed up to save the world, but they may be the only hope the world has.
Author Information
:

I live in Tacoma, Washington, with my fiancé and our two cats. In addition to my slight obsession with books and writing, I'm big on road-tripping, wine-tasting, and hunting for antiques. I'm represented by Jill Grinberg.
CINDER, my debut novel, is a futuristic re-envisioning of Cinderella in which Cinder is a cyborg mechanic. Release date: 3 Jan 2012.
Other Review: