Title
: The Redhead Plays Her Hand
Review
: Famouses have relationship problems too.
You have young mega-star leading man continuing his relationship with
older, curvy, up and coming actress. Can their relationship withstand the
Also, while the sex has been toned down from the ridiculous levels of the
last book (so reviewer tip – if you want tons of OTT Sex get the previous
book), it is still clear they are way into oral sex; both giving and
receiving. But then again, who isn't.
A fun read which does a good job of demonstrating who frustrating and
detrimental a life in the constant eye of the paparazzi can be. They
struggle with the cost of fame, people using them, including friends, and
just plain tensions we all feel when a relationship moves beyond the
A good series to keep up with.
Quick Review
: 3.5 stars out of 5.
Where I Obtained the Book:
Sent by the publisher for review
Synopsis
: The third sexy novel in USA TODAY bestselling author Alice Clayton's playful and erotic Redhead series continues the sizzling romance between actress Grace Sheridan and Hollywood's hottest leading man Jack Hamilton.
Grace has landed the lead in a new TV series—but when the director asks her to lose fifteen pounds, she goes public with her weight struggles and suddenly develops a huge fan club who support her right to have curves. But between that and the public's continuing fascination with her "are they or aren't they" relationship with Jack, Grace begins to wonder if anyone's really interested in her because of her upcoming TV series, or if it's all speculation about the size of her ass and her bedroom partner.
Meanwhile, Jack is voted the Sexiest Man Alive and becomes a little too enamored with the party-hard lifestyle. Grace vows to give him the space he needs to find himself, but then he begins to spiral down from lovable Brit to Hollywood brat. People are talking, but are Jack and Grace? Her career is on the rise, and his continues into the stratosphere, but will she be able to catch him if he falls? Will they ever be able to just be a couple who can hold hands when they walk down the street?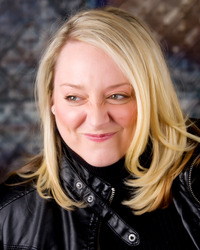 Author Biography
: Alice Clayton is a novelist with an unholy love for her KitchenAid mixer. Making her home in St Louis, she enjoys gardening but not weeding, baking but not cleaning up afterwards, and is trying desperately to get her long time boyfriend to make her an honest woman. Hi sweetie!!
After working for years in the cosmetics industry as a makeup artist, esthetician, and national educator for a major cosmetics company, Alice picked up a pen (read laptop) for the first time at 33 to begin a new career, writer. Combining her love of storytelling with a sense of silly, she was shocked and awed to be nominated for a Goodreads Author award in 2010 for her debut novels, The Redhead Series.
Alice has penned three novels, The Unidentified Redhead,The Redhead Revealed, and coming soon in November 2012, Wallbanger. She thinks you should purchase them immediately. She's not kidding, not even a little bit. Everyone needs some comedic erotica in their lives. She is hard at work on the third book in The Redhead Series, set to release in Spring of 2013, continuing the saucy and sexual escapades of everyone's favorite couple, Jack and Grace.
Additionally, Alice loves spending time with her besties on Not Your Mother's Podcast, make sure you check them out at notyourmotherspodcast.com or over on iTunes. 3 women rushing towards their forties still acting like teenagers. A saucy little mix of sex, love, relationships, pop cultural, celebrity gossip and All Things Jake Ryan.
Alice enjoys pickles, Bloody Mary's, 8 hours of sleep, and a good pounding.
Finally Alice would also like all her readers and listeners to help her convince Mt. Alice that the only other thing that would make her truly happy is finally bringing home a Bernese Mountain Dog. She is totally serious. And done talking about herself in the third person…